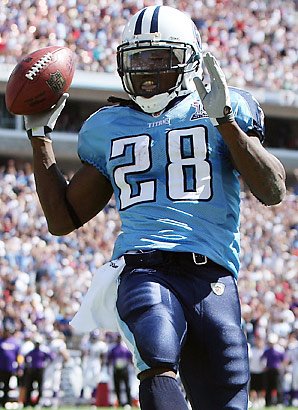 Few qualities allure NFL scouts more than raw speed. Just watch some tape of Deion Sanders ridiculing defenders on a punt return or hawking receivers as a cornerback and you'll quickly understand velocity's charm.
In fact, it's our fascination with speed and its intimate relationship with success at the highest levels of football that leads NFL scouts to measure it in countless ways and fans to marvel at it like they've glimpsed at something holy.
Maybe they have.
But as usual, even among men who move faster and fly higher than the rest of us, there are always a select few who dance with gods, while everyone else just plays football.
Without further ado, below you'll find the top five fastest players in the NFL:
5. Michael Vick
Michael Vick is, by a considerable margin, the fastest QB in NFL history. In 2001, he ran a faster 40-yard dash than future Pro Bowlers RB LaDanian Tomlinson and WR Steve L. Smith.
His spin moves in the pocket can exceed 180 degrees at NBA point guard speeds.
According to the geeks over at ESPN Sports Science, Vick's top speed of 21.63 mph is quicker than Adrian Peterson's top gear. Thus, the former Atlanta Falcon has been known to blow by defensive players with as much as a 15-yard advantage on him.
It should come as no surprise, then, that the Philadelphia Eagles' superstar has already passed Steve Young for second all-time on the rushing yards for a QB list and will likely eclipse Randall Cunningham's record mark.
4. Ted Ginn Jr.
Coming out of Ohio State, Ted Ginn Jr. seemed destined for greatness. He was first team All-American three years in a row and in 2007 was believed to possess the speed to break Deion Sanders' unofficial combine record.
However, Ginn Jr. missed that mark by one-hundredth of a second and faced similar shortcomings at the professional level. Perhaps part of the reason for this is that unrealistic expectations have been attached to Ginn since he was drafted 9th in the 1st round of the NFL draft by the Miami Dolphins.
Still, there is no denying that Ginn is one of the fastest in the business and recently set an NFL record for his new team the San Francisco 49ers by returning a kick for a 102-yard TD run and a punt 55 yards for touchdown within 70 seconds.
3. Mike Wallace
The Pittsburgh Steelers' Mike Wallace is simply one of the fastest NFL wide receivers ever. According to NFLscout.com, Wallace ran his 40 in 4.28, which ranks among the top in recorded history.
Due to the loss of star WR Santonio Holmes, expectations were high for the Ole Miss product as a replacement in Pittsburgh. Needless to say, Wallace has delivered. In 2010, his performance gained him his first Pro Bowl selection and he has quite possibly surpassed DeSean Jackson as the NFL's greatest deep threat.
2. Jacoby Ford
Jacoby Ford is a human lightning bolt. In 2007, Ford ran the 100-meter dash in a mind-boggling 10.23 seconds at the ACC outdoor track championships. To put that speed into perspective, if he had produced the same time as recently as the 1980 Summer Olympics, he would've taken the gold medal.
Internet legend has Ford running a 4.126 40-yard dash at the 2005 Fork Union Military Academy combine, which would be the fastest in the NFL and only a shade slower than Bo Jackson's unofficial all-time NFL record time of 4.12.
The question for Jacoby is whether his cheetah-like sprinting ability will translate into NFL success. The 24-year-old Ford is currently a wide receiver and return specialist for the Oakland Raiders.
1. Chris Johnson
Chris Johnson is not just blisteringly fast, he's football fast. His 4.24-second 40 is the fastest official time in NFL history. And, just so you get an idea of how exactly how fast that is, Johnson would've been ahead of Usain Bolt at the 40-yard mark when Bolt set the World Record in the 100-meter race at the 2008 Olympics.
But what makes Johnson truly special, particularly as a running back is his 10-yard dash record.
The Tennessee ti*ans' Ferrari runs the 10-yd split in 1.4 seconds and accelerates to over 14 mph in only a second and a half. This type of acceleration is responsible for the weekly horror show Johnson has been performing on less evolved league defenders.
But perhaps the most impressive numbers for Johnson are his actual rushing yards, the translation of his pure talent into tangible football success.
In only his second year in the league, Johnson led the NFL in rushing with 2006 yards, good for 5th all-time in a single season and 3 yards ahead of O.J. Simpson's rushing mark from his 1973 NFL MVP-winning season.
Johnson also broke Marshall Faulk's record of total yards from scrimmage.
For these reasons, I don't think it's premature to suggest that the 25-year-old Johnson is in the early stages of a Hall of Fame career and depending on the ti*ans' success, megastardom. Yahoo
Surprised Desean Jackson or Darrius Heyward-Bey didn't make the list. Do you agree with this list?