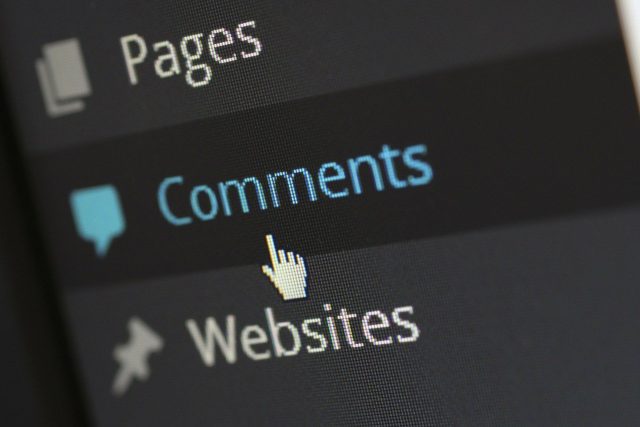 Choosing a WP theme for your blog or website can be daunting. Reports say there are over 3,500 free-GPL licensed WordPress themes, 1, 166 of which come with language packs. Themeforest alone has over 47, 582 themes, 12, 006 of which are WP themes.
With this many themes available and counting, choosing the best WordPress theme for your blog can be a hassle. Powering over 35% of the internet, WordPress is indeed king of CMS. From this number, you can learn which themes look and work best for your kind of site/content.
But,  with such numbers, hunting can be overwhelming.
In this article, we will highlight what a WordPress theme is, some top free WordPress themes and finally, things to do before choosing a WordPress theme, but first
What is a WordPress Theme?
A theme is a collection of files (codes, style sheets, graphics, templates etc.) that work together to enable you to control and dictate the overall presentation, appearance and functionality of your blog or website, in this case WordPress.
Managed, changed and added from the WordPress admin area under Appearance » Themes, your WP theme changes the aesthetics of your site's front-end without affecting the core framework.
It is the overall design and style of your blog or site, ranging from font styling to colours, widget locations, page layouts, blog post, archive styles and other additional features of your blog. It also affects UI and user experience.
Some Top Free WordPress Themes by the Numbers
The following are some of the top free WP themes on the WordPress theme directory which is one of the safest places to download WP themes. Themes featured on this directory, are closely reviewed and must meet WP theme review guidelines for quality and security.
1. Astra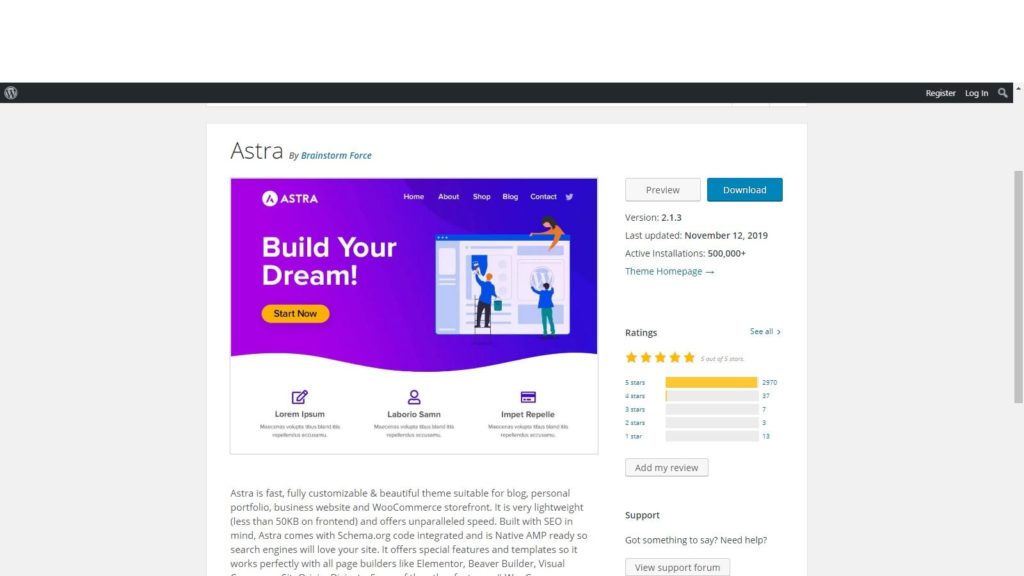 Ratings: 5 Stars
Number of Active Installations: 500,000+
Industry: Blog, Personal Portfolio, Business and Ecommerce
Last Updated: Nov 12, 2019.
2. OceanWP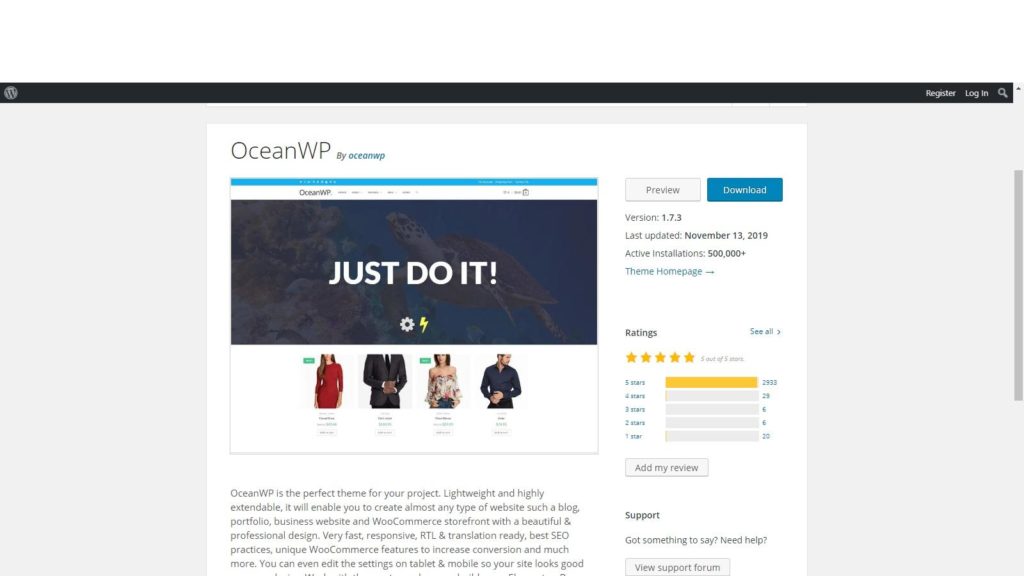 Ratings: 5 Stars
Number of Active Installations: 500,000+
Industry: Blog, Portfolio, Business, Ecommerce
Last Updated: Nov 13, 2019
3. Sydney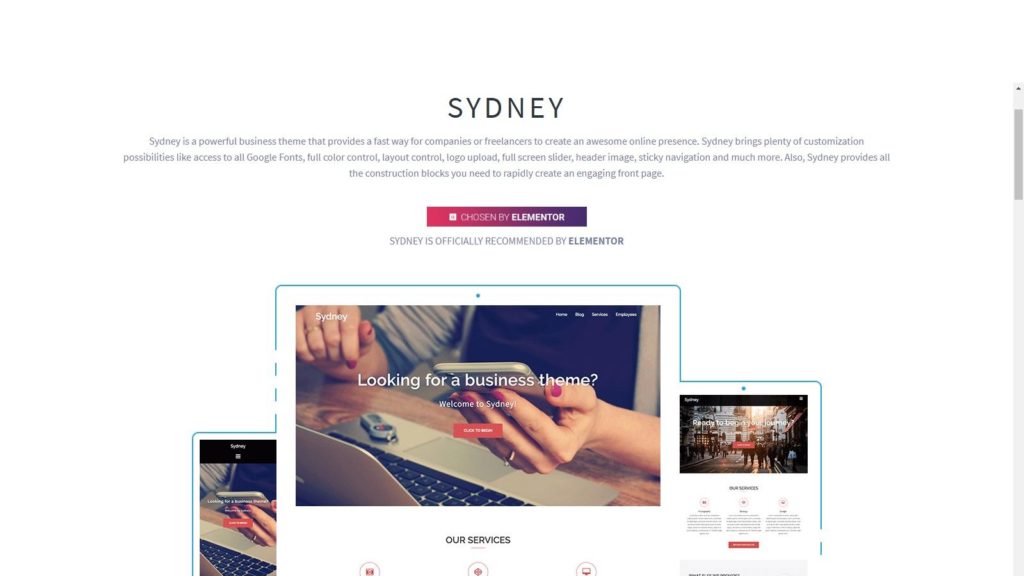 Ratings: 5 Stars
Number of Active Installations: 200,000+
Industry: Business
Last updated: April 29, 2019
4. GeneratePress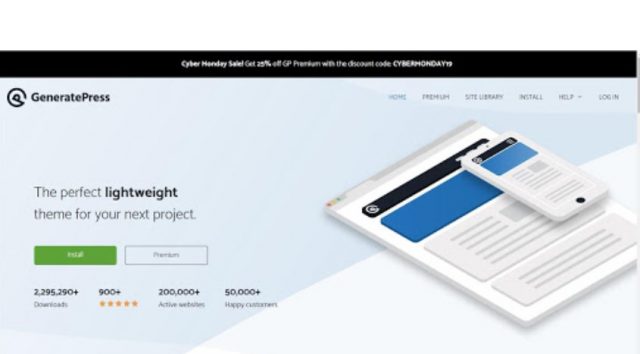 Ratings: 5 Stars
Number of Active Installations: 200,000+
Industry: Multipurpose
Last updated: November 20, 2019
5. Shapely- One Page WordPress Theme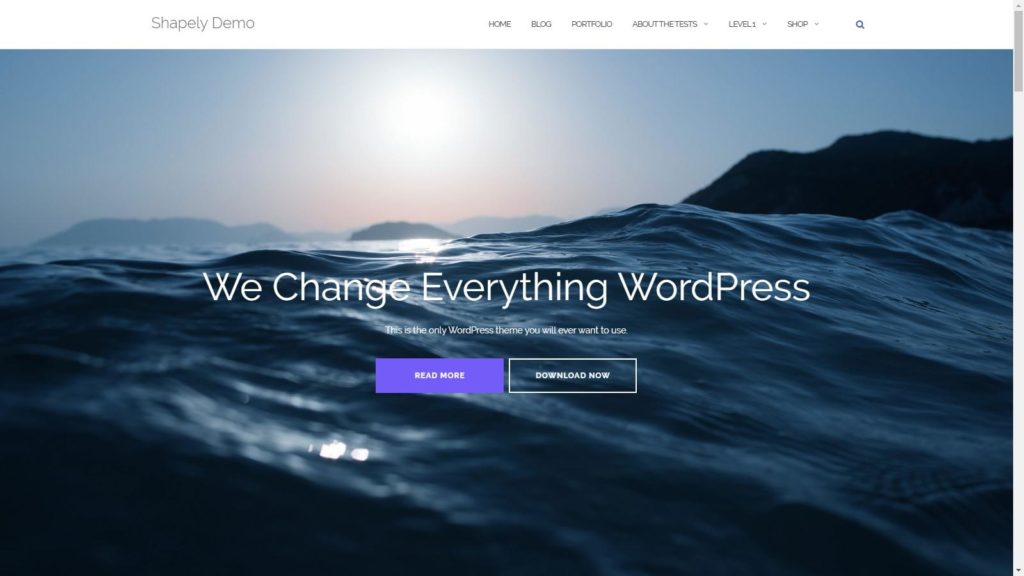 Ratings: 4.7 Stars
Number of Active Installations: 100,000+
Industry: Ecommerce, Financial Services, Publishing.
Last Updated: October 17, 2019
6. Neve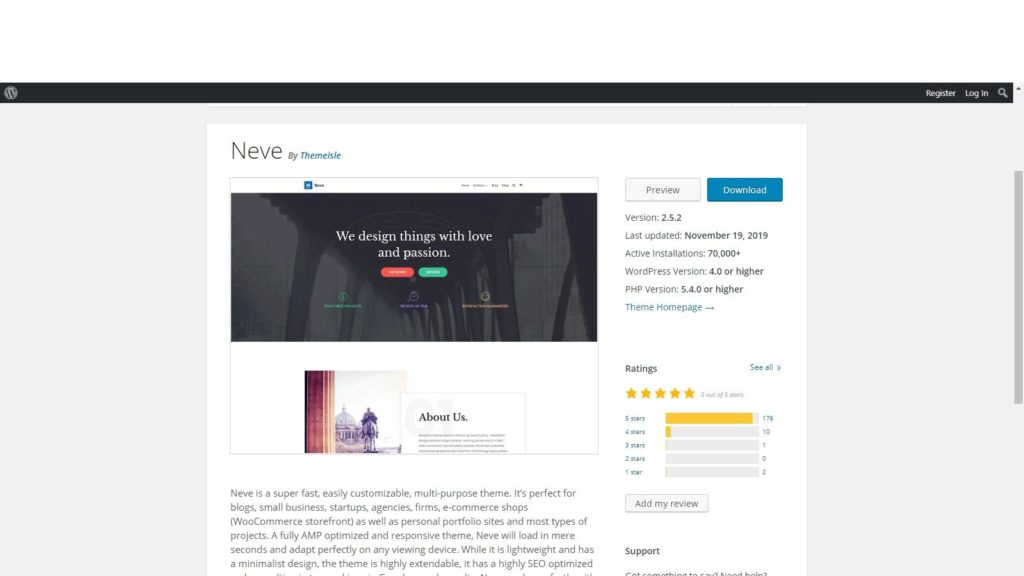 Ratings: 5 Stars
Number of Active Installations: 60,000+
Industry: Multipurpose
Last updated: Nov 19, 2019
7. Hueman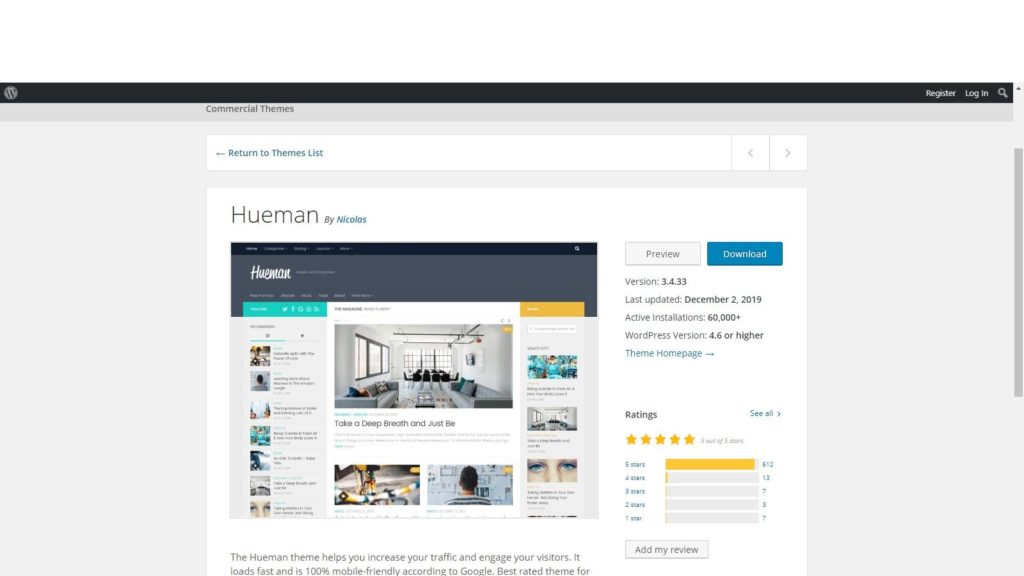 Ratings: 5 Stars
Number of Active Installations: 60,000+
Industry: Blogs, Magazines
Last Updated: November 19, 2019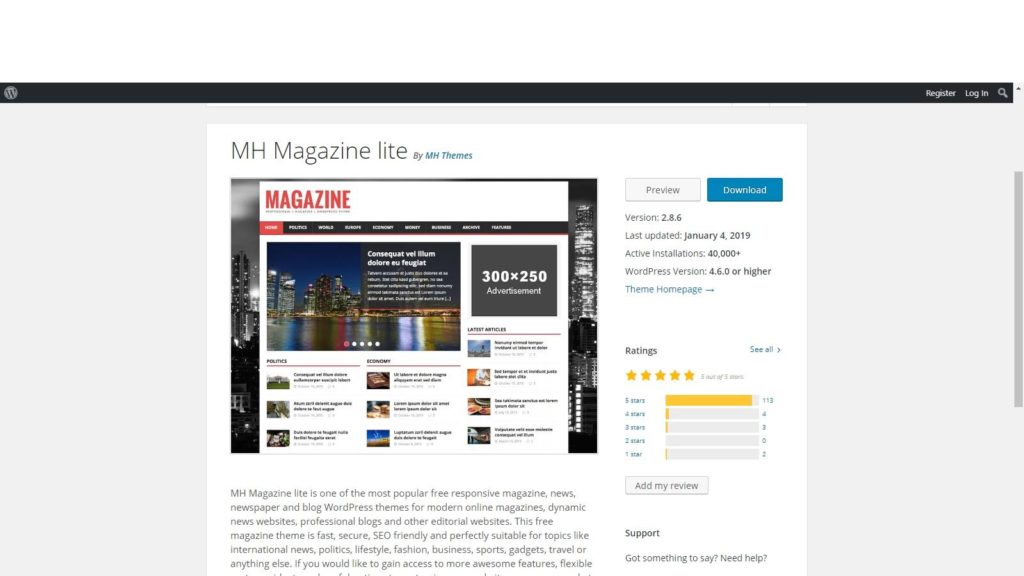 Ratings: 5 Stars
Number of Active Installations: 40,000+
Industry: Magazine, News, Newspaper and Blog
Last Updated: January 4, 2019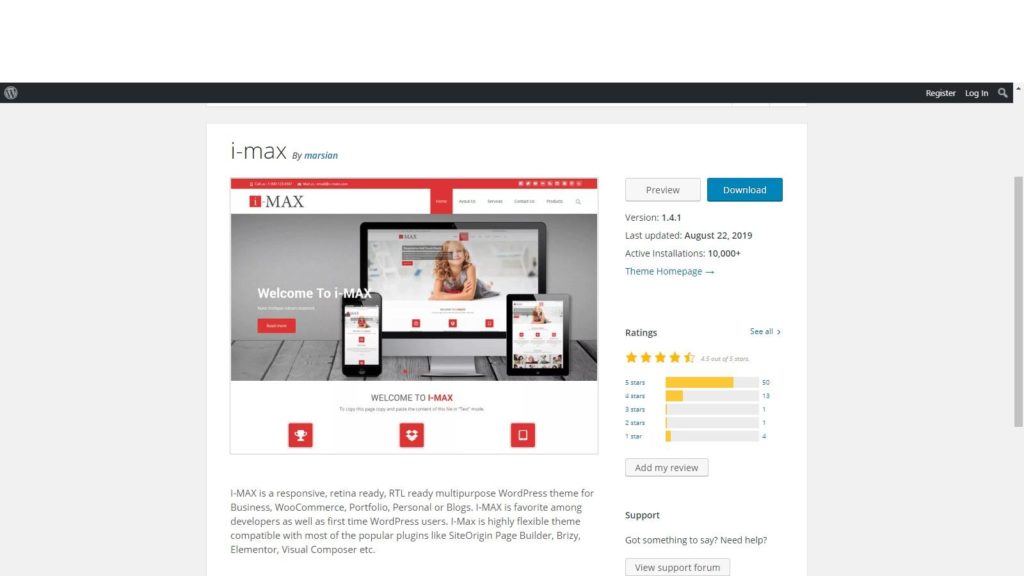 Ratings: 4.5 Stars
Number of Active Installations: 10,000+
Industry: Business, Ecommerce, Portfolio, Personal or Blogs.
Last Updated: August 22, 2019
10. Moesia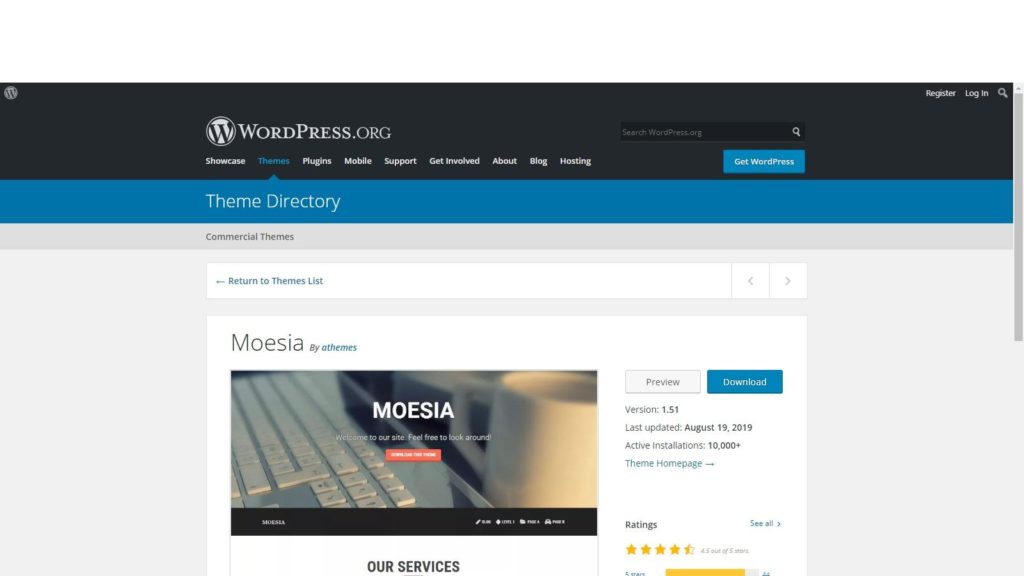 Ratings: 4.5 Stars
Number of Active Installations: 10,000+
Industry: Business
Last Updated: August 19, 2019
Following are
Things to Do Before Choosing a WP Theme
1. Research
Search WP Theme Directory by Category/Industry
Before choosing a WP theme for your blog, research by searching for niche/industry specific themes.
These already come pre-loaded with certain bells and whistles to make your site shine like others in the same industry. This makes building your website a tad easier.
Also, read reviews and see what other users have to say about such themes, taking note of rating, number of downloads, etc..
Use www.whatwpthemeisthat.com
This is a free online tool that helps you detect what WordPress theme your favourite sites are using. Simply enter the site's URL and click "search".
Ask (on Quora, other Fora, or other medium)
Quora is a popular Q&A platform. Ask for the best WP theme for your industry/niche. Compare your answers with your other findings from other sources. You can also ask on other similar Q&A hubs like Fora.
2. Preview
Ensure to preview selected themes before installation and activation. This shows you how each theme may turn out on your site. How it eventually turns out depends on your technical know how.
3. Use WP Editors like Elementor
Use WordPress page builders like Elementor to create, edit, and customize your website layout without writing any code. With Elementor which is a live page builder plugin, you get to see live changes as you edit.
4. Is continuous customer support available?
Customer support should be a key factor when choosing WP themes, in case issues arise during installation or use.
Premium themes usually come with customer support via email, call centre, online tickets, forum and tutorials. Free themes on the other hand, often lack support and updates in some cases.
Without support you may get stuck someday and have to redo your site/blog from scratch.
5. Are updates available?
WP software is constantly updated, sometimes twice a day. Therefore, it is important to choose a theme that is also actively maintained and updated regularly.
To discover the update frequency of a theme, check it's changelog. Also, on WordPress.org, you can check for a theme's "Last Updated" near the top of the right sidebar.
6. How many languages are supported?
It is also vital to check and make sure that your WP theme is translation ready and supports multilingual WP plugins.
This will enable visitors who speak other languages to easily access and interact with your blog or site's contents. Speaking of content, here you have a site where you can get some ideas to keep your blog busy all year.
7. Is it absolutely free or paid?
Some themes are free to use up to a point, beyond which users are required to upgrade, either with a one off payment or monthly/annual subscription.
Some offer a free trial period after which users are required to pay.
Ensure to confirm if your chosen theme is free to use or paid. This is important so you don't have to build a fresh site with another theme after your free trial expires and you have no funds to purchase your trial theme.
8. Other Things to Consider
Make sure your website is mobile responsive so it can render properly on different devices to provide an omni-channel experience. Google is favoring mobile friendly sites in SERP results. Plugins like WPTouch can also make your site mobile responsive.
Backup your site before changing themes, so if something goes wrong you can revert to the last best state, otherwise you could lose months of work.
Watch YouTube videos for how to install your chosen one. This will not only help you install it properly, it will also help you configure it professionally and optimize it for SEO and best performance.
Conclusion
Your WordPress theme is the face of your WP site. It will determine the design and functionality of your site/blog.
Depending on your skill level and niche, choose a WordPress theme that best befits your brand.