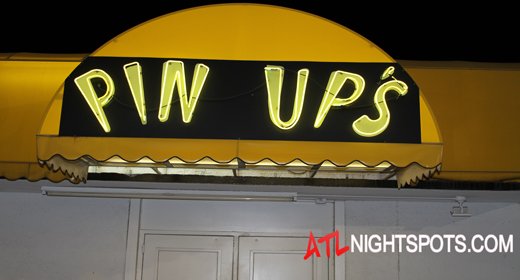 I pulled up to Pin Ups strip club around 1:30 the parking was $10 on the side and $20 in the front and free in the back. The Door charge was $15 and it was amateur night with a prize of $500. The club has a VIP section that is roped off for a addition $10 dollars but I didn't notice any addition love sitting over there so I stood over by the bar. The lap dances are $5 and DJ doesn't let the whole song ride out all the time so if your drinking and talking that lap dance meter will be going up quickly.
The 1st lap dance I got was from Too Sweet who was sitting down next to me looking tired so I gave her a charity dance on the strength. She was aight… I could tell she was O.G by her lap dance routine if your a strip club veteran you can tell within the 1st song. After the 1st 3 songs I leaned over to her and asked
"Let's see if you can count to 10,How many songs has it been already?"
She smiled and said 3 and I replied aight just checking. So then after the next song I told her I was good and handed her $20 and with a atti*ude she said it's $25 so I replied
"When I asked you how many songs has it been what did you tell me?"
She replied with a delay..
"I said 20"
I'm like *Chappelle's voice* Weeerd. Then I just paid her. I call that trick the stripper O.G lap dance tax. So after that she just sat back down next to me.
The next dance I got was from a newbie she was straight her azz was super soft and real.
So then the 3rd dance I got was from a stripper named Lil Mama you will recognize her from her blonde weave or c section scar I chose her cause she was doing her thing on the stage and she got a donk (fake). After the 1st song I'm like damn is she going to just do one side to side move the whole song. I knew she wasn't getting more then $20 from me. So now the amateur contest has started and after the 3rd song she just walked off across the room to talk to her friend for a whole song. She came back the next song and asked
"you want me to keep going"
I'm like yeah.
So after 4 songs and 4 different amateurs hit the stage I hand her a $20..With a atti*ude she like what's this it's 30. I am like damn do I got a Im from outa town sign on me .. So then I asked her
"how many amateurs danced since you been here?"
She got caught off guard with that question and blurbs out 5 and then I replied it was 4 and how does 5 equal $30 dollars? So she looks at To Sweet for some assistance in this debate so they going back n forth double teaming me on how it was $30 and she been sitting next to me counting the whole time.. I'm like *Chappelle's voice* Weeerd.
Sheeit is rough in the strip clubs the counting out loud trick don't even work any more you got to get a pre-paid lap dance card now.
The Amateur contest was funny as hell there were about 10 girls a couple big cats scattered in the mix. After seeing the 2nd runner up dance every one in the club just new she won she had the body and looks to be a regular Pin-Ups stripper. So then the winner Chyna was up next every one is sleeping on her cause she was a big cat I would guess 200 pounds. She jumped on the stage bustin splits,doing hand stands and sliding down the pole like she was 130 pounds. It was a March Madness final four upset for the 2nd runner up who just new she was leaving with that $500 and was tipped about a $100.
There were no drink specials that night all I had was a Red Bull. Over all it was aight night minus getting hit with the O.G lap dance tax 2x.
So if you go to Pin Ups and get a lap dance from Too Sweet(brown skin with a overbite,fake ass) or Lil Mama(Blonde Weave,C section) be prepared to get taxed.
Comparing Pin Ups to club Blaze on a Thursday night ..Pin Ups has a Blaze beat with the amateur contest but I would say it would be a draw on the levels of selection strippers wise. Music wise I got to give it club Blaze that DJ was rocking and he wasn't chopping songs down.