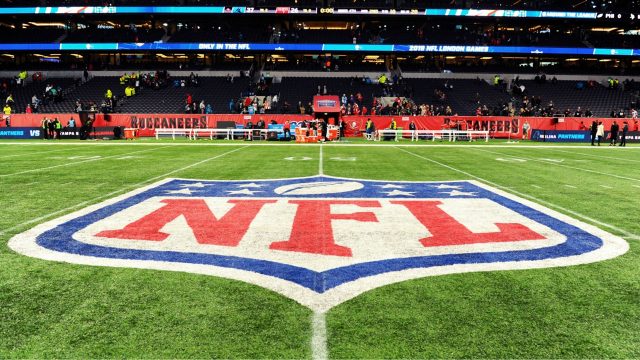 With training camps beginning to open, the 2023 NFL Season is almost upon us. After a long offseason, we can all finally start to look towards NFL Sundays again.
And this year promises to be an interesting one. Given all of the restrictions and testing requirements last season, the 2023 campaign was a tumultuous one. Many game reschedules and late scratches due to COVID testing issues led to a disjointed season across the board for the entire league.
The 2023 season should be much less volatile in these regards. The pandemic is much more controlled now than it was at the beginning of last season and the majority of the country is now vaccinated and cases are down compared to this time last year.
With a high percentage of players already vaccinated against the virus and harsher restrictions placed on those who aren't, we assume there will be fewer COVID-related interruptions. All in all, this year should be much easier for bettors and casual viewers alike to predict.
This leads us to the really fun stuff – the betting. Many betting sites have opened up futures betting markets for this year.
Betting on futures allows you to cash in on broad predictions for the season. Instead of betting on a game-by-game basis, you can bet on cumulative results of the entire campaign. If you are good at predicting trends in football, this is a valuable way to make some dough betting on the NFL.
But where can you find value in NFL futures? We've picked out some of the most enticing offers available on the market to guide you to profits.
For more information on football sportsbooks, click here.
1. Justin Herbert to win MVP (+2000)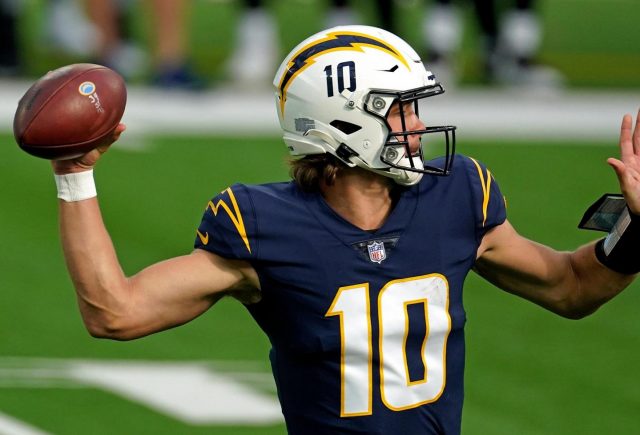 The former Oregon Duck surpassed even the loftiest of expectations in his rookie campaign. Herbert took over the reins in Los Angeles after a freak injury sidelined veteran Tyrod Taylor before LA's week 2 match-up with the defending champion Chiefs. He was thrown straight into the fire, but he didn't get burnt. Instead, Herbert threw for over 300 yards with a passing and rushing touchdown in the Chargers' overtime loss.
This was just the first of many memorable performances for Herbert who would throw for 4,336 yards and 31 touchdowns (a rookie record), all while throwing just 10 interceptions.
This stellar performance earned Herbert the Rookie of the Year award, ahead of fellow standout freshmen like Justin Jefferson and Chase Young.
Looking ahead to this season, there is little reason to doubt Herbert will continue to improve. The Chargers added some protection for him on the offensive line, plus a full year of experience running the offense should only help.
At +2000, Herbert is good value to follow in the footsteps of recent winners Patrick Mahomes and Lamar Jackson and win MVP in just his second professional season.
2. Philadelphia Eagles to finish with League's worst record (+1300)
The 2023 Philadelphia Eagles were an absolute mess. Nothing worked the way it should have. Former MVP candidate Carson Wentz at times looked like he had forgotten how to play the Quarterback position. Super Bowl-winning Head Coach Doug Pederson seemed like he had completely lost control of the game at many points. Combine those two disappointments with bad injury luck and you have the perfect recipe for a season from hell.
And there's no denying, it was absolutely a season from hell. Predicted by many to take the NFC East crown, the Birds ended up finishing dead last in a historically bad division, finishing 4-11-1 in an embarrassing effort.
This led the front office to make sweeping changes, trading away former franchise centerpiece Carson Wentz and firing the architect of the Philly Special, Doug Pederson.
In their stead, second-year QB Jalen Hurts and former Colts Offensive Coordinator Nick Sirianni will take over.
Hurts certainly showed flashes during his limited action last season, but was inconsistent and his ceiling as a starter is still very much unclear. He's improved as a passer immeasurably since his time at the University of Alabama, but questions about his arm talent remain. He seems to be a smart player and extremely hard worker, so improvement is always in the cards, but his development may have some bumps in the road. Additionally, his playing style as a mobile quarterback lends itself to injury, which is a dangerous proposition for an offense's focal point.
Hurts is surrounded by an aging core. Eagle legends like Lane Johnson, Fletcher Cox, and Brandon Graham are still very much productive but should start showing signs of aging soon. Young playmakers like Devonta Smith and Miles Sanders should help, but the Eagles' depth at the skill positions is weak, to say the least.
At the helm is first-time Head Coach Nick Sirianni. It's hard to say how effective a leader Sirianni will be in his role. The Colts' offense he ran previously has been productive, but it's unclear whether he or Colts' Head Coach Frank Reich was calling the shots on that side of the ball.
Question marks at Quarterback and Head Coach, along with an aging core, make the Eagles a potential good value pick to finish with the NFL's worst record at +1300.
3. Chicago Bears to win NFC North (+500)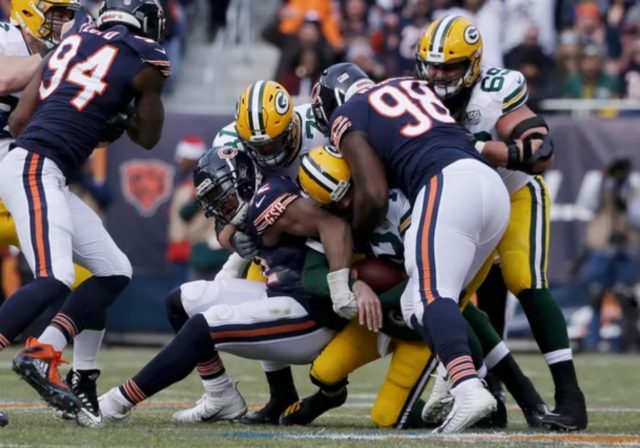 In recent years, the Bears have been a playoff contender in search of a quarterback. After taking Mitch Trubisky ahead of stars Deshaun Watson (oops) and Patrick Mahomes (major oops), Chicago tied its talented roster to a mediocre quarterback for years. An extremely talented supporting cast, featuring the likes of Khalil Mack, Allen Robinson, Eddie Jackson, and Akiem Hicks has been left to languish.
After squeaking into the playoffs with an 8-8 record last year, Chicago stuck with the Ryan Pace-Matt Nagy regime but decided it was time to upgrade their signal-caller.
Out went Trubisky, as the Bears signed veteran Andy Dalton and traded up in the Draft to select Ohio State's Justin Fields. Dalton had some good years with the Bengals, but that was a long time ago. He may start the season, but the future clearly belongs to Fields.
If the Bears can get improved production from these two over Trubisky and Nick Foles, it stands to reason they could up their record and nudge themselves past the defending champion Green Bay Packers in the NFC North.
Green Bay has problems of its own. Though the situation seems settled for now, tensions the team's front office has with future Hall of Famer Aaron Rodgers and his favorite target, Davante Adams, could linger into the season and affect the Packers' performance.
I think all of these factors make the Bears a good play to win the NFC North at +500.
4. Matthew Stafford to lead NFL in passing yards (+1000)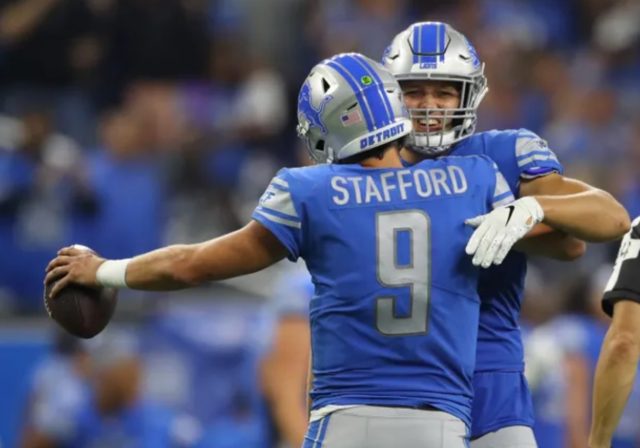 This one is fairly simple – Matthew Stafford has thrown for over 4,000 yards 8 times in his past 9 full seasons with the Detroit Lions. This offseason, the lowly Lions traded their longtime QB to the Los Angeles Rams.
The Rams are in a much better situation for Stafford to succeed than Detroit. Los Angeles is a bonafide contender this year. In Sean McVay's high-powered offense, Stafford will get the chance to air it out as much as his heart desires. His primary targets, Robert Woods and Cooper Kupp, make for one of the better receiving duos in the league as well.
I believe Stafford is undisputably in a great position to put up insane numbers in 2023.
5. San Francisco 49ers to win Super Bowl (+1300)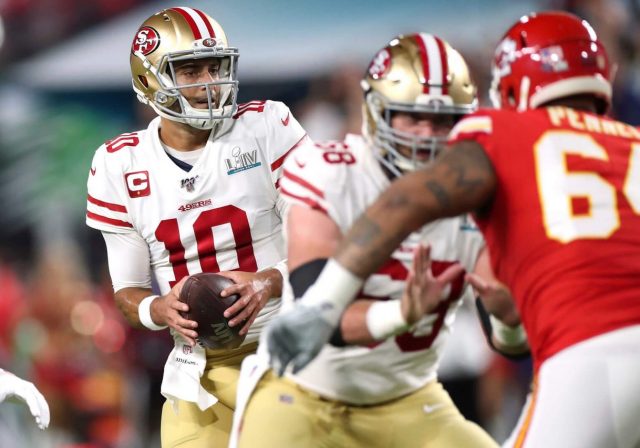 The Niners were one of the unluckiest teams in the entire NFL last year. They followed up their phenomenal 2019 NFC-winning performance with a disappointing season that saw their phenomenal roster devastated by injury.
In 2019, San Francisco was 13-3 and only narrowly lost to the Kansas City Chiefs in the Super Bowl. In 2023, the 49ers were 6-10 and missed the playoffs. The Super Bowl hangover can be crushing.
This season, however, things should be looking up again. It's highly unlikely that their injury luck will be nearly as bad.
Jimmy Garoppolo is looking to turn back the clock to 2019 after 2023 saw him only able to play in 6 games. He's shown his talent in the past, but inconsistency and injury concerns have caused many to question whether he is a true franchise quarterback. This led San Francisco to draft 21-year-old North Dakota State product Trey Lance with the third overall pick in the draft. Jimmy G looks like a solid pick to start this year, with Lance being considered a multi-year developmental project.
Assuming Garoppolo will have some extra motivation with Lance lurking, improved performance from the quarterback position will improve the Niners' championship aspirations immensely.
They already have one of the greatest offensive minds in the game running the show with Head Coach Kyle Shanahan. Combine him with some unreal talent across the board, headlined by players like George Kittle, Fred Warner, Trent Williams, and Alex Mack, and the 49ers should be back to their winning ways in 2023.
That's why I think they're a great dark horse pick to win the whole thing this year at +1300.