Popular series about the rise of the Guadalajara cartel in the 1980s, titled Narcos: Mexico has been renewed for the 2nd season on Netflix. The official air date of the newest season is still unknown, but it is believed that the 2nd season will be available this year.
In December 2018, Narcos official Twitter account posted a special video, announcing the 2nd season.
Narcos: Mexico Season 1 Finale
The series tells a story of a former Sinaloan police officer who is now drug lord, Felix Gallardo, and a Mexican-American DEA (Drug Enforcement Administration) agent, Kiki Camarena, who is on a mission to take Gallardo down.
Unfortunately, Camarena gets abducted, tortured, and killed, and his death served as the trigger for a war on drugs.
A DEA agent in charge of Operation Leyenda, Walt Breslin, is tasked to punish those responsible for Camarena's death, which will be in focus in the new season.
"What happened in Guadalajara in the early '80s was the beginning. What happened in Guadalajara gave birth to the first cartel. From that, others would follow. And the violence and money and drugs, they just fucking explode. It changed the DEA, too. Maybe it woke us up; I don't know. But it's where the first shot was fired, the one that started the drug war. And after that, none of it would be the same. How could it be? We knew we were in a war. Now, it was our turn. Pretty soon, they were gonna know, they were in one too," Breslin says in voiceover at the end of the final episode of the 1st season.
The Cast of Narcos: Mexico Season 2
We're building an empire. Why stop now? pic.twitter.com/1e1JY5L6ye

— Narcos (@NarcosNetflix) December 5, 2018
Agent Walt Breslin will be played by Scoot McNairy (12 Years A Slaves). During most of the first season, the narrator was unknown. At the end of the final season, his identity was revealed, and it turned out that the narrator is McNairy.
The drug lord Felix Gallardo is played by Diego Luna (Rogue One: A Star Wars Story).
The rest of the cast include Tenoch Huerta as Rafael Cara Quintero, Teresa Ruiz as Isabella Bautista, and Alejandro Edda as Joaquin El Chapo Guzman.
Trailer For Narcos: Mexico Season 2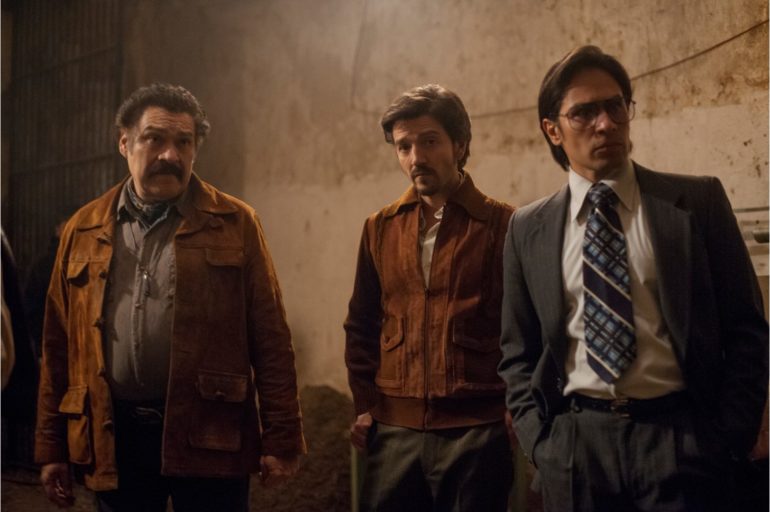 There isn't an official trailer for the 2nd season of the series. It is believed that with the official release date there will be trailer too.