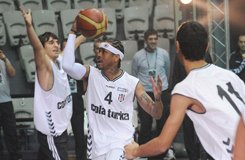 Allen Iverson, one of the greatest basketball players of all time came out on the losing end of his divorce from Tawanna Iverson.
According to TMZ, Tawanna was granted legal and physical custody of their five children. A.I. will have visitation rights, but only if adheres to strict rules set forth by the judge in the case.
A.I. can't consume alcohol for the next 18 months, has to see a psychiatrist, attend AA meetings for a year and until all of his kids turn 18-years old he cannot drink alcohol withing 24 hours of his visits with them.
In the final divorce decree the judge reprimands A.I. for being a bad parent who has not dealt with his alcohol problem saying:
"[Iverson] does not know how to manage the children; has little interest in learning to manage the children and has actually, at times, been a hindrance to their spiritual and emotional growth and development.

For example, he has refused to attend to an obvious and serious alcohol problem, which has caused him to do inappropriate things in the presence of the children while impaired. 

He has left the children alone without supervision. He has left his young daughters in a hotel room with men who are unknown to the mother."
New Forum Posts:
Future's jumpoff on twitter bragging about the gifts she bought him
On Set: Joe Budden (BTS) Wild'n out with Rosa Acosta & Sasha Delvalle
Chris Brown Pulled Over For Speeding
Jennifer Hudson: Super Bowl Party 2013 with Jamie Foxx!