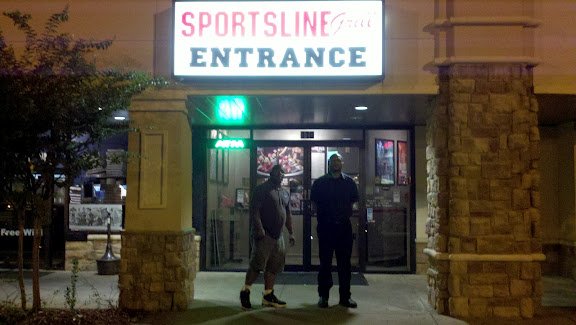 Wednesday night on the the North-side is a veritable desert when it comes to the night scene, luckily for those of you who live in the Northern O.T.P. (outside the perimeter area) there is an oasis.
Sportsline is first and foremost a Sportsbar, You can go there and watch pretty much anything you want on any of its 57 or so T.V.'s. The Staff is friendly and the bartender's are very knowledgeable when it comes to drink making as well as extremely gracious with the amount of alcohol that you will find it's way into your beverage. There's evenPool Tables, A electronic Basketball hoop AND a Hookah Bar But I digress.
I have a Love/Hate relationship when it comes to open mics. As a passionate Audiophile I love to hear new music, but as a whole I lament over the myriad of unsavory and sub-standard performances that I have to wade through just to find that Gem. Sportsline's Open Michosted by Citi to Citi productions is no different I literally gritted my teeth through performances from people like "Black Carpet Music" just to hear REAL musicians like "T.M.G. Certified" and "Dana Chevelle"
Some Artists Swagger across the stage filled with unfounded bravado just to Mumble their whole song into the microphone. While Others pack so much energy into their performances that attention was diverted
away from my awesome steak fries and to the stage in question.
The Eye Candy was Decent and pretty much any woman I talked to was open to have conversation. If you're looking for something to do on a Wednesday I WOULD definitely put Sportsline into my list of possible venues to visit. Entry is 5 dollars, The dress code is Suspended for that night (anything goes), Performers pay 10 dollars per song and there's a cash prize for the winner at the end of the night.
written by The Magnificent Shazaam
ADDRESS:
Sportsline Bar & Grille
2359 windyhill Rd.
Marietta GA, 30060
5 dollar entry
Dress Code: Suspended (normally no white tees)