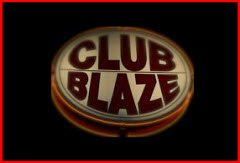 I happened to be out and about Thursday night leaving a event and decided to stop by Club Blaze while I was on that side of town.
I pulled up to the club around 1 something the parking lot was full but that ain't saying much cause it's also small as hell. They charge $10 dollars to park in the back and $20 to park directly in the front of the club. The door charge is also $10 dollars I think the club closes at 3am. They charge you $10 dollars to bring your camera phone in the club or they give you the option to return it to your car. When I walked in there was more dancers then patrons, I didn't count the total amount of strippers but just guesstimating I would say about 30 total. I haven't been at the Club Blaze Strip Club Review in like a year so I wouldn't be able to tell you if they had any new dancers but I seen a couple familiar faces/donks. There were a lot of donks in the building, I seen one or two slimmies out out of all the strippers I seen that night. Looks wise there were a lot of 8,9 and a couple of 10's walking around surprisingly. I walked in there with low expectations and would go back any given Thursday.
I got a couple of dances from a couple different strippers no complaints in the that area for $5 dollars a wop. The DJ wasn't playing half the songs and the strippers gave you a bang for your buck (no pun intended). If I could compare Club Blaze to any other strip club in Atlanta you might be familiar with I would say Pin Ups. The strippers weren't hounding you for dances and weren't being boujee either like some other local spots. I didn't get any drinks but they had $3 dollar drink specials. Over all the club was on some real laid back chill sheit every one minding there own biz in there own world. For all you baller's on a budget with a $100 you could really enjoy your self at the Club Blaze. If you been to the Club Blaze let the world know what you thought about it..
3438 Moreland Avenue
Conley,GA – 30288
HOURS: 12pm – 4am
Update : I originally had blue flame off bank head but it was club blaze.