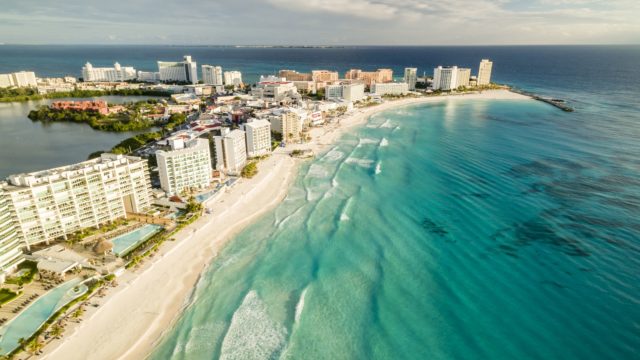 You don't like winter? You're constantly imagining hot weather and the bright sun on a sandy beach? Then Cancun is the place for you!
The First Thought Of Cancun
Tequila, sombrero, cactuses and chili are the first things on your mind when thinking of seductive and hedonistic Mexico. Cancun is a Mexican most popular tourist destination, perfect for a relaxing vacation as well as a great night out. Just a little bit to the south, there is another popular resort – Playa del Carmen, known for its luxury hotels. Further south is Tulum, which has probably the most beautiful beach in all of Mexico. Over the last 30 years, Cancun has grown from a small jungle village into one of the world's most famous resorts. It represents the pearl of the Caribbean, with long sandy beaches and its turquoise blue sea. There are countless restaurants, cafes, bars, nightclubs, which are the hub of many tourists from all over the world.
The City That Never Sleeps
In tourist brochures, Cancun is represented as a city that never sleeps or a place closest to paradise. After just a few days spent in this city, you will realize – people are not exaggerating. Long beaches with almost white sand, pleasant bathing water, crazy nights out, and the friendly staff at the hotels and shops – this is what you can expect. While you pack your suitcases to get home, you will probably think – when will I come here again?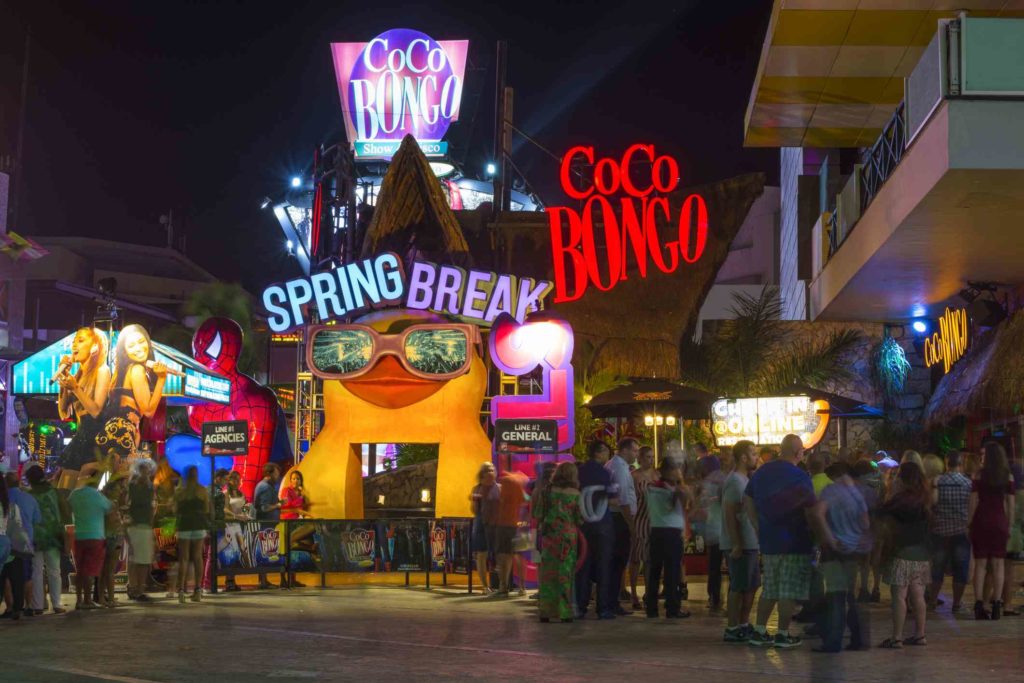 A City Within The City
Cancun is located in the southeastern part of the Mexican state of Quintana Roo on the Caribbean coast. It sounds incredible, but this place is only half a century old. 50 years ago it was just a village with not more than 120 inhabitants. The city is sort of divided into two zones –  city and hotel zones.  What they have in common is the Kukulkan Boulevard, which extends along the entire peninsula. The hotel zone is proof that Cancun was not accidentally chosen to host the 16th United Nations Climate Change Conference, held in 2010. This part of the city is a school example of sustainable development. In Cancun, nature lives in harmony along with modern architecture. Therefore this is the place you cannot resist.
Luxury Hotels Everywhere
There are over 150 hotels along the 23 km long coastline on both sides of the peninsula. These hotels are representatives of well-known four and five-star chains such as  "Hilton" or "Holiday in", but also those with exotic names like "Great Parnassus", "Fiesta Americana", "Barcelo Flamingo", etc. Each of these luxury hotels has a huge garden, own beach, and all the other things that every tourist inevitably enjoys. Cancun and Mexico have a lot to offer tourists, so while you're there – make sure you visit most of the places of interest available to you. For such a thing, it's best to rent a car and take a tour of your own.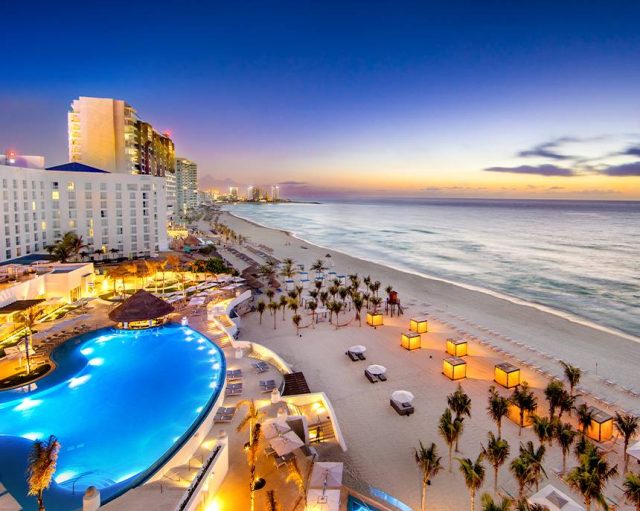 The Transportation Services In Cancun
Maybe you are not a fan of renting a car and exploring the unknown terrain on your own? Still, you need transportation. Don't worry because the solution is always there. Find a reliable transporting company that can help you feel good and safe when you arrive in Mexico. Whether it is a simple transfer from the airport to the hotel, or private and taxi rides  – you can find reliable transportation through eTransfers. Maybe you want a luxury car ride or a city tour? Or you want to organize a group trip with your friends, so you need a spacious multi-person vehicle? You can find it all through this and similar portals. This is a very reliable transportation system in which you can be sure that you will be able to reach the desired location safely and comfortably. You don't have to worry about getting lost or becoming a victim of some greedy self-proclaimed taxi driver. On the contrary, you can find these services to be safe and very affordable.
The Tulum National Park
Just outside Cancun is Tulum National Park – and the Mayan city of the same name. Tulum, which in the Mayan language means "a wall", is protected on three sides by six meters high walls, while on one side it is open to the sea. This is a rarity because the Mayans did not defend their cities with walls. Observation towers were built at the southwest and northwest ends of this place. Near the north wall, there is the holy lake – Senota, from which the former inhabitants used to supply with drinking water.
This city existed some 4,000 years ago and almost 10,000 people lived there at the time. It was built out of stone, and the largest building is the Castle. There, you can see figures and masks which symbolize Venus and the sunset. You will also enjoy visiting the temple with well-preserved frescoes. The highest point of the city offers an unforgettable view of the Caribbean, and also several smaller beaches. The tour to Tulum takes about an hour and a half. Apart from seeing ancient buildings and unusual animals – you can also enjoy lying in the sun.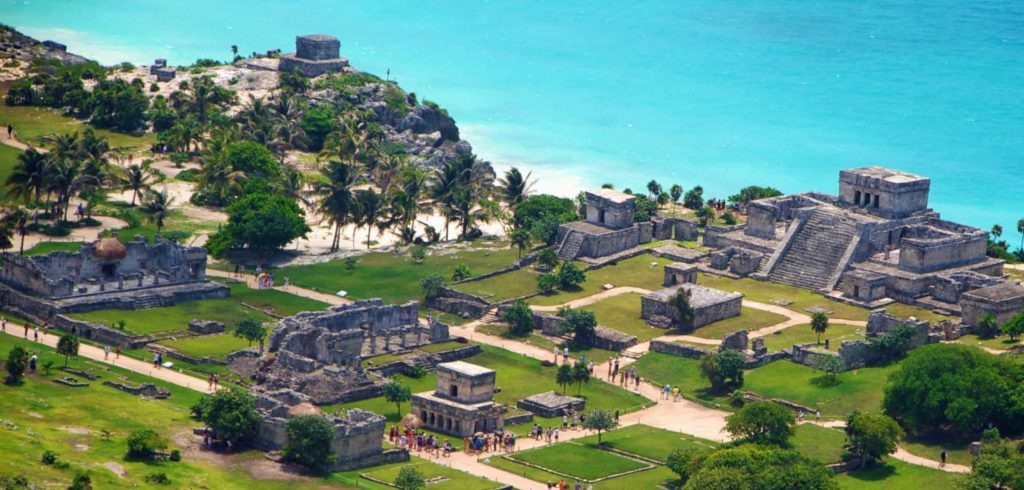 Xcaret, Chichen Itza
On the list of sites to visit in Cancun is the Xcaret Nature Park. In addition to natural beauty, one can enjoy swimming with dolphins and seals or taking pictures with parrots and flamingos.
Few people miss the opportunity to visit Chichen Itza, one of the former Seven Wonders of the World. The Great Ziggurat, the Mayan temple of Kukulkan, is also known as El Castillo. This pyramid was built according to the solar calendar and is a favourite place for taking pictures.
The Animal World
Cancun is covered with greenery. Even the smallest free area is under grass, palm trees or native mangrove. An ordinary out-of-town walk can turn into a real adventure as this is the homeland of lemurs, peacocks, and iguanas. That is why, along with the standard traffic signs along the boulevard, some warn of slower driving. It's because some of the animals may run out on the road. There are also signs of a possible crocodile danger. You can still find some in the remaining swamp areas in the southern parts of the city.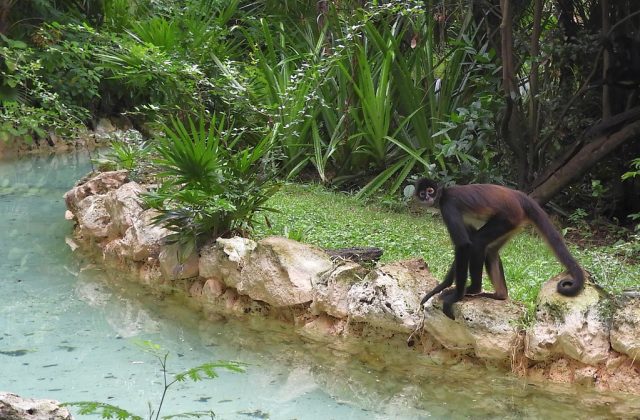 The Land Of Contrast
Mexico is truly a wonderful country. The more you get to know it, the more you will love it. It has everything – from the Caribbean Sea to the mountains, deserts, forests, mysterious caves, waterfalls, wildlife etc. The people here are very kind. They are very friendly and love to have fun. Families are generally very large. Among the people you will meet, many have grown up in families with 10 or more than siblings. This is also a land of contrasts.
In some cities, the economic and cultural differences are huge. From their luxury homes, many people can see the neighborhoods where people live in cardboard houses. Some life stories are much like those in the series you once watched. Still, Mexico is a country you will love, and Cancun is a place you will be glad to return to.