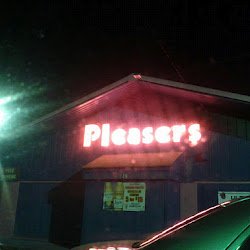 I slide through Pleasers strip club Tuesday night to check on if anything changed since the last time I been there 6 months ago. Pleasers is special to me cause it was the first strip club I been to in Atlanta. Coming from Philly's hole in wall strip clubs Pleasers seemed like the average club with down south thick strippers 6 years ago.
Fast forward 6 years later the club hasn't made any significant changes to the interior and for the last couple years it has been the same strippers. Last Tuesday I was pleasantly surprised to see 4 new dancers that all just recently started.
One of the dancers (brown skin, crazy body) tried to hit me with classic Pleasers trick "If you want me to go hard lapdances are going to be $10.. Is that cool?". I agreed then she tried to run the meter up on my adding songs she didn't dance to. Mood Killa
Another new dancer from NY gave me a lapdance like was in a Jamaican night club. She pounding her azz on me like that was feeling good, she clearly just started stripping by the way she was moving.
If your from out-of-town and your staying in a hotel out by the airport then Pleasers is a baller on a budge option. The parking is free but I wouldn't advise you to leave anything of value in your car. The door charge is $10 and the lap dancers are always $5 unless you want an upgrade.
849 Cleveland Ave
Atlanta, GA 30315
404- 767-2500
Mon.- Sat. 4:00 p.m- 3:00 a.m.