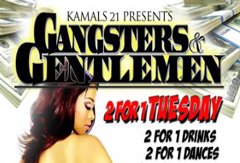 With the way these Atlanta strip clubs and changing dancers we need to review clubs every couple months, check out Peter Tips review of Kamal's 21.
Quality of Dances (7/20) – There's a huge variation from one girl to the next at Kamal's. One girl gave the best dance that I've had in Atlanta, another gave what amounted to little more than an airdance and other girls were all over the spectrum in between. Once nice thing here is that some of the girls offer $20 lap dances as opposed to the usual $10 table dances that you find everywhere else. The girls who offered the lap dances seemed to be the ones who gave the best dances, with full upper body two way contact and plenty of over the pants stick shifting. Unfortunately, it's a relatively small percentage of girls who mention the lap dances, and grindless friction seems to be the much more typical dance style. Still, these are some of the best dances that you'll find at any of the decent black clubs, with only Strokers out in Clarkston having the slight advantage.
Quality of Dancers (7.5/10) – As long as you aren't expecting Magic City or Onyx quality women, you shouldn't have any major complaints. Most of the ladies would rate around a 7, but there were also several 8s and 9s and one of the hottest dancers I've even seen working the night that I stopped by.
Number of Dancers (6.5/10) – I'm not sure that I believe their claims of having 50+ ladies on the weekends, but they do have a ton of ladies for such a modestly sized club. Of course, by the time things really get going, the room gets packed wall to wall with customers too, so the ratio ends up being merely acceptable. You can't beat it early in the evening though, when they seem to have about two dancers for every customer.
Variety/Diversity of Dancers (2/5) – This is a black club, so don't bother stopping by if black girls don't do anything for you. They have a nice mix of dark skinned and light skinned beauties though, and there's plenty of size variation to keep just about anybody interested. I only saw one white dancer, but I almost wished that she hadn't been there, because it made things a little awkward when she approached me for a dance. She was hot and friendly so I accepted her offer, but it just didn't feel right as the only white guy in the club to be getting a dance from the only white girl in the club. I'm sure everyone who saw me at that moment wondered why I even bothered to come to Kamal's, but I think I dropped enough cash by the end of the night that no one doubted my appreciation for the ebony ladies.
Atti*ude of Dancers (7.5/10) – The ladies at Kamal's are about as friendly as any that I've encountered in Atlanta. It has the feel of a local bar, and the women treat you accordingly. Most of them are happy to sit and chat, and a lot of them even go out of their way to introduce you to other dancers who they think you'd like.
Value (5.5/10) – The $10 cover, $5 beers and $10 table dances are all standard for Atlanta, so the value really depends on whether or not you're planning to make it rain. People shower the girls with stack of cash, but you can manage to have a good time even if you don't have a rapper's budget as long as you don't get too close to the stage, because this place gets crowded enough that no one will notice whether you're spending money as long as you're buying drinks and getting occasional dances.
Dance Setup (0/10) – The tables dances are given right out in the open, and you'll be lucky to even be seated if you're there when it's busy unless you're getting bottle service. Earlier in the evening, you'll get to sit on a bench or a bar stool, but those options are pretty bad too. The "lap dances" are really just table dances with more contact, so the setup is no different, though some of the ladies will make a little extra effort to find a seat for you since you're paying twice as much per song.
Club Setup (3/10) – Kamal's 21 is a fairly small club that's divided into three areas. Off to the right is a bar area that's so bright that it almost looks like a juice bar. There's also a small stage and some stools in there, but it would be my last choice of places to hang out. The main bar area is in the middle and has another fairly small bar and very limited bench seating for bottle service. Finally, off to the left side and down a few steps is a medium sized stage, a few more seats and another tiny bar. It not overly classy and there's not nearly enough seating, but they do about as well as they can given their space constraints. If they did try to pack more seats in, there would be less standing room, and things would feel even more cramped when they're busy.
Club Atmosphere (5.5/10) – This place isn't as glamorous as some of the other clubs in Atlanta, but it has a nice relaxed atmosphere and still can turn into a wild party when they have a special event, which seems to be just about every night. I've never been there for their b**** slap Wednesdays or their baby oil shows, but I assume that both can get pretty crazy. The crowd is almost exclusively black, but I felt perfectly welcome the whole time that I was there and safety wasn't a concern at all. Or, maybe I should say that it wasn't a concern after I saw the security guys at the entrance. I wouldn't be at all surprised to find out that they were Falcons linebackers trying to pick up some extra cash in their free time, because they were the biggest, most muscular guys I've ever seen.
Club Accessibility (4/5) – There's plenty of parking and it isn't hard to get to from downtown Atlanta or Buckhead, and it's borderline walkable from Onyx. Even if you don't want to make it your primary destination for the evening, the location makes it convenient for a short visit.
Overall – If you only want to go to one black club in Atlanta, you should make it either Magic City or Onyx. They're to black clubs in Atlanta what the Spearmint Rhino is to all clubs in Vegas – mediocre in many ways, but teeming with women so beautiful they have to be seen to be believed. Unlike those places, Kamal's 21 won't be on anyone's strip club bucket list. Having said that, this is the best all-around black club in the city, and with its friendly women, relaxed atmosphere and decent dances, it would probably be my most frequent choice of the black clubs if I lived in Atlanta.
RAW SCORE = 48.5