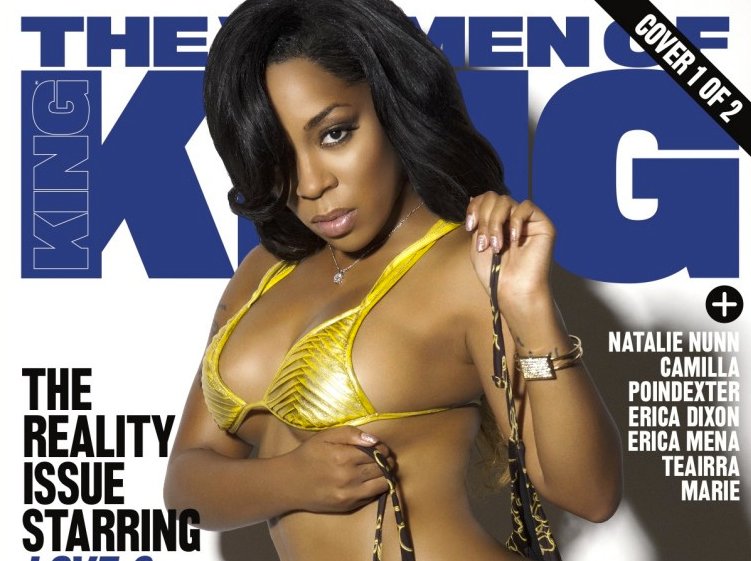 "Love & Hip Hop Atlanta" star and recording artist K. Michelle covers the just revealed Winter issue of King magazine.
Revealed Tuesday, the cover finds the "Shut Up" singer posing near nude.
According to King, K. Michelle is also featured in a variety of poses within the magazine, which also features coverage of fellow reality television stars Brooke Bailey and Erica Dixon.
"For KING historians, you can point to a number of reality beauties who have graced our pages, from Hoopz to Toccara. But this is the first time it's cover-to-cover reality girls. For a few, like Love & Hip-Hop: Atlanta's Erica Dixon and our other cover girl, the table-shaking ball of lustiness K. Michelle, this was their first time being se*y for the camera,"
reports King.
In related news, K. Michelle has signed a record deal with Warner Bros, where she plans to release an album Summer 2013.
"Today was a very special day. Today I signed with Warner Brothers Records. I am a true testimony that God will make room for ur gifts. So many people counted me out and wished bad upon me," said K. Michelle. "Some tried to destroy my name. I kept fighting and praying. Music is my life. I have sooo much to sing about. The past is the past. I thank ALL of u 4just holding me down. Over a million downloads on a mixtape. DAMN. I loooove y'all. Now it's time to talk that Sh*t and make an amazing album. No bubble gum music, straight RAW."