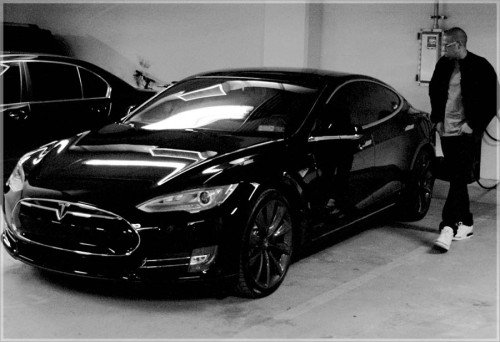 Jay Z went green and added a black-on-black Tesla Model S to his stable of automobiles. It's not the story of the year, I'll grant you, but it definitely indicates the star power the Tesla commands.
Of course not every car brand with wealthy or famous owners ends up doing well. Leonardo DiCaprio was one of the first people in line for the Fisker Karma, and Justin Bieber's manager bought the pop star a chrome-wrapped Karma for his 18th birthday. We all know how that story ended, and Fisker may drop the whole green hybrid theme entirely just to stay alive.
While Jay Z rolling around in a double-black Tesla is no indication of a brand's success, it certainly promotes the Model S as an aspirational vehicle. If electric vehicles are really going to break the mold for automobiles, people have to want one. Tesla has done a good job of getting itself noticed without spending a dime on marketing, and the word is obviously out. By the way, it was Jay Z's wife, Beyonce, who snapped this timely photo of the rapper admiring his ride according to our source. Jay Z has got 99 problems, but pollution ain't one.
You would think a car that saves people 3k (Georgia) a year in gas would of been cool to buy, now that Jay Z got one everyone will look at the Tesla different.