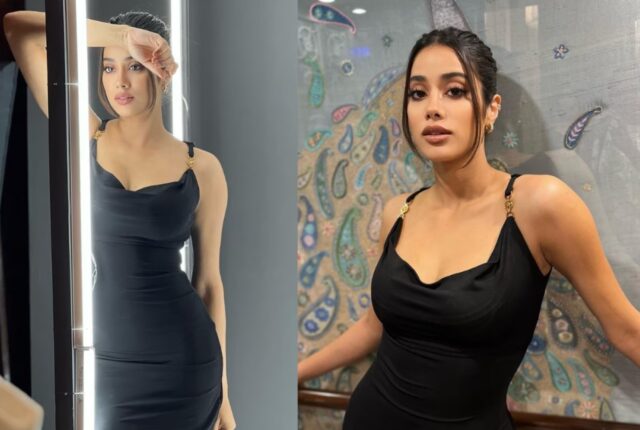 Are you looking to turn heads and feel confident at your next event or night out? Look no further than bodycon dresses! These form-fitting dresses are a wardrobe staple for women of all shapes and sizes. From classic black to daring cut-outs, there's a bodycon dress out there that can make any woman feel sexy and empowered. In this blog post, we'll explore some unique bodycon dress outfit ideas that are sure to help you stand out in a crowd. Get ready to rock these styles with confidence!
The Little Black Dress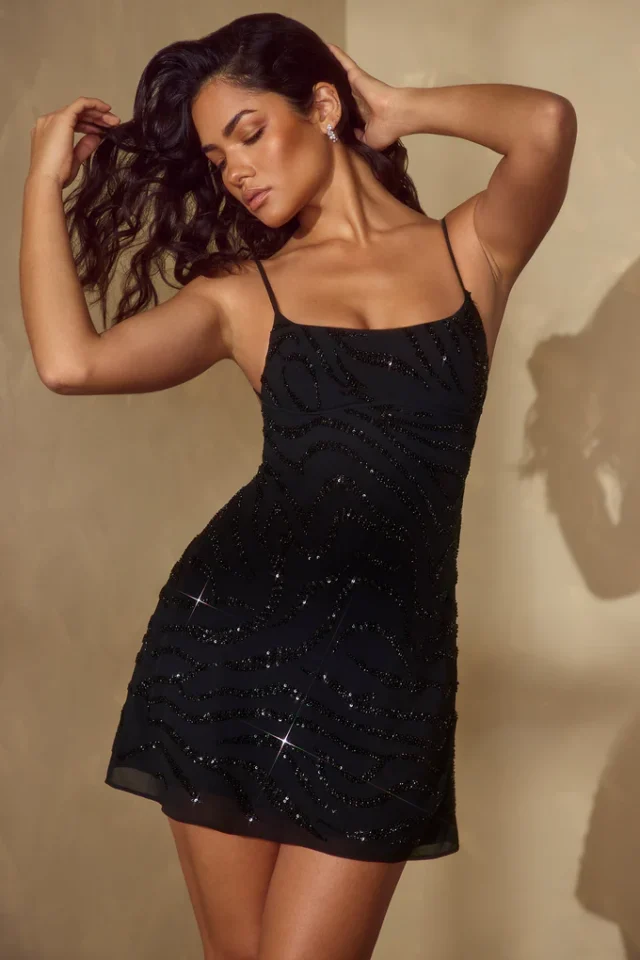 The Little Black Dress, also known as the LBD, is a timeless classic that every woman should have in her wardrobe. It's versatile and can be dressed up or down for any occasion. Whether you're heading to a cocktail party or meeting friends for brunch, an LBD is always a safe choice.
The trick to making your LBD stand out is to accessorize it well. Try adding statement jewelry or bold shoes to make your dress pop. A leather jacket can also add some edge and contrast with the feminine silhouette of the dress.
When it comes to choosing the right style of LBD, consider your body shape and what makes you feel comfortable and confident. Opt for a fitted design if you want to show off your curves, or choose an A-line cut if you prefer something more modest.
Another great thing about the little black dress is that it never goes out of style! With so many variations available on the market today – from strapless to long-sleeved styles – there's no excuse not to have one hanging in your closet ready for any occasion.
The Lace Dress
For a feminine and delicate look, opt for the lace dress. This fabric adds texture and dimension to any outfit, making it perfect for special occasions or date nights.
When styling a lace dress, keep in mind that less is more. Let the dress be the statement piece by pairing it with simple accessories such as stud earrings and nude heels.
For a classic look, go for a white or black bodycon lace dress. If you want to add some color to your outfit, choose pastel shades like blush pink or mint green.
To make the most out of your lace dress, try layering it over a slip dress or wearing it with tights during colder months. This will not only add warmth but also create an interesting contrast between fabrics.
The lace dress is a timeless piece that every woman should have in her wardrobe. It's elegant yet playful and can easily be dressed up or down depending on the occasion.
The Leather Dress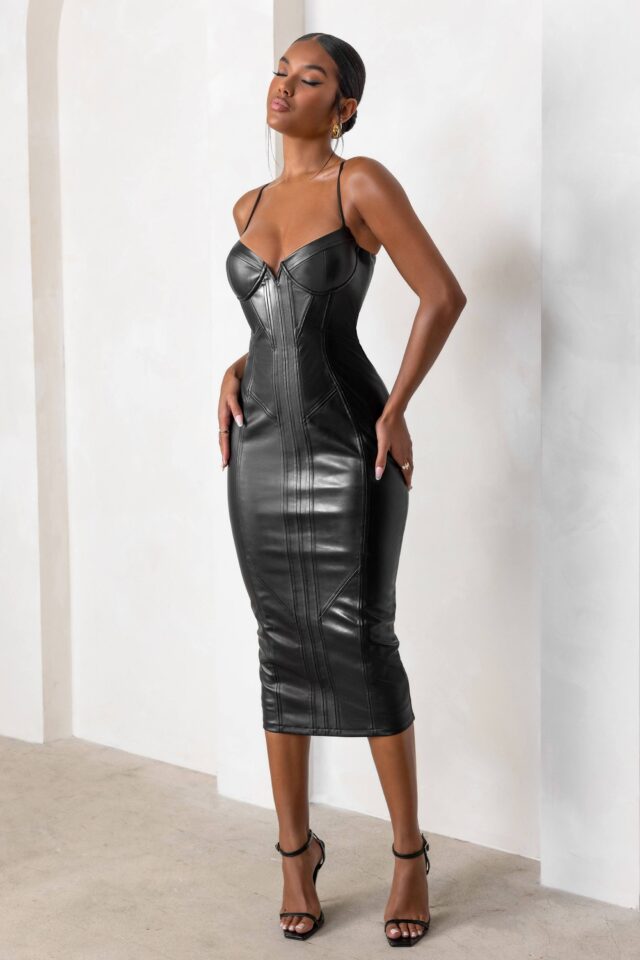 If you're looking for an edgy and sophisticated look, then the leather dress is definitely the way to go. This versatile outfit can be worn in many different ways, from a chic daytime look to a daring nighttime ensemble.
A classic black leather dress with a simple design is perfect for an elegant dinner party or a night out with friends. You can pair it with some strappy heels and statement jewelry to complete your bold yet stylish look.
For those who prefer something more unique, there are plenty of options available. From playful colors like red or brown to prints like snakeskin or leopard print, you can find something that suits your personal style perfectly.
Don't be afraid to experiment! You can layer your leather dress over turtlenecks or wear it underneath blazers for added warmth during colder weather. Alternatively, opt for minimalist styling by pairing it up with some ankle boots and minimal accessories for that sleek finished touch.
The Slit Dress
The slit dress is a perfect way to show off your legs while still looking elegant and chic. This type of bodycon dress features a high slit on one or both sides, making it ideal for any occasion that requires a touch of drama.
One great thing about the slit dress is its versatility. You can find this style in various lengths, from mini to maxi. For an everyday look, choose a knee-length version with a modest slit. On the other hand, if you're attending a formal event or hitting up the club scene with friends, go for something more daring such as thigh-high slits.
Another fantastic feature of the slit dress is how easy it is to accessorize. Pair it with strappy heels and statement earrings for an effortless yet put-together outfit. Alternatively, if you want to add some edge to your look, try styling your dresses with ankle boots and leather jackets.
The key to rocking the slit dress is confidence! This style exudes sexiness and elegance simultaneously – so own it! Whether you opt for subtle slits or bold ones, always remember that feeling comfortable in your skin should be top priority when donning any outfit – especially when wearing unique styles like these!
The Cut-Out Dress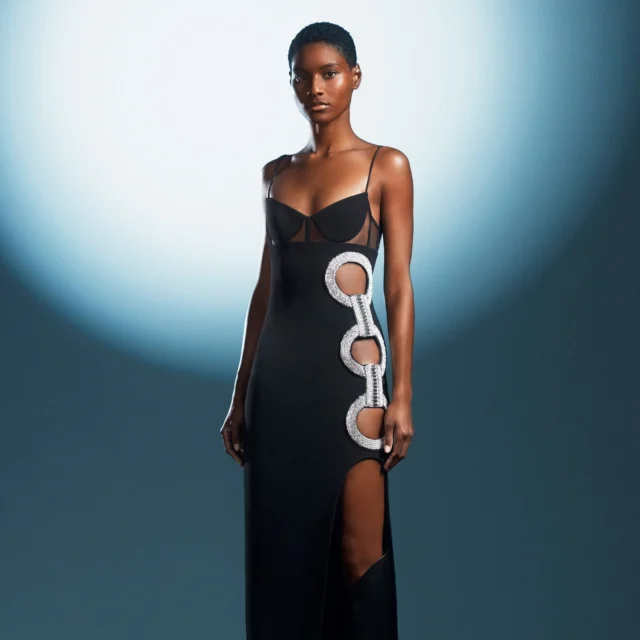 The Cut-Out Dress is the perfect way to turn up the heat and add a little edge to your wardrobe. This unique style features strategically placed cut-outs that highlight your curves in all the right places.
One of the best things about the cut-out dress is its versatility. You can find this style in a variety of materials, from sleek satin to edgy leather. It's also available in different lengths, sleeve styles, and neckline options.
If you're looking for a daring yet sophisticated look, opt for a long-sleeved midi dress with cut-out detailing along the waistline or back. For something more playful and flirtier, try a mini dress with side cutouts or an off-the-shoulder neckline.
The key to pulling off the cut-out dress is choosing pieces that complement your body shape and personal style. If you want to keep it classy, balance out skin-baring areas with coverage elsewhere – like opting for long sleeves if you have a plunging neckline.
The cut-out dress is perfect for anyone who wants to make a statement while still feeling confident and comfortable. So go ahead, rock those cut-outs!
The Plunging Neckline Dress
The plunging neckline dress is a bold and daring choice that can make any woman feel confident and sexy. This style of dress features a deep V-neckline that shows off the décolletage area, making it perfect for those who want to show off some skin.
When wearing a plunging neckline dress, it's important to choose the right bra or undergarment to avoid any wardrobe malfunctions. A plunge bra or sticky cups are great options for providing support while keeping your look seamless.
This type of dress comes in many different styles, from bodycon to flowy maxi dresses. For a more formal event, opt for a long gown with a plunging neckline paired with statement earrings and simple heels. For a night out with friends, try pairing your mini plunging neckline dress with strappy sandals and bold lipstick.
Keep in mind that this style may not be appropriate for all occasions or settings, so consider the event before choosing this type of outfit. With the right accessories and confidence, you'll be sure to turn heads in your plunging neckline dress!
The Backless Dress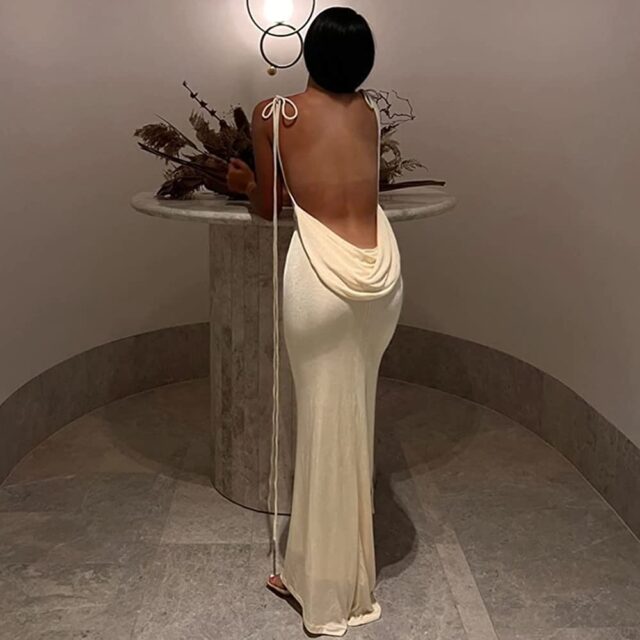 The Backless Dress is a classic piece that can make any woman feel sexy and confident. It's perfect for those who want to show off their back while still looking elegant and sophisticated. This dress style can come in various cuts, lengths, and materials.
One of the best things about the Backless Dress is its versatility. You can choose from different styles such as halter neck, spaghetti straps, or long sleeves to suit your preference. Pair it with strappy heels or ankle boots depending on the occasion you're attending.
It's important to note that wearing a backless dress requires some preparation beforehand. Make sure you have good posture and toned back muscles so you'll look great in photos too!
If you're not comfortable going bra-less, there are adhesive bras available in the market specially designed for this type of dress. Always remember to keep accessories minimal since the focus should be on your stunning outfit.
The Sheer Dress
The sheer dress is a daring and sexy option that can make you feel confident and empowered. This type of bodycon dress is made from a see-through fabric that reveals just the right amount of skin, creating an alluring look.
When it comes to styling a sheer dress, layering is key. You can wear it over a slip or bodysuit for extra coverage, or pair it with high-waisted shorts and a crop top for a more casual vibe.
If you're feeling particularly daring, try wearing a sheer dress with intricate embroidery or beading details. These embellishments can help accentuate your curves while adding some texture and dimension to your outfit.
The sheer dress is not for the faint-hearted but if styled correctly it can give you an irresistible edge that will make heads turn wherever you go.
The One-Shoulder Dress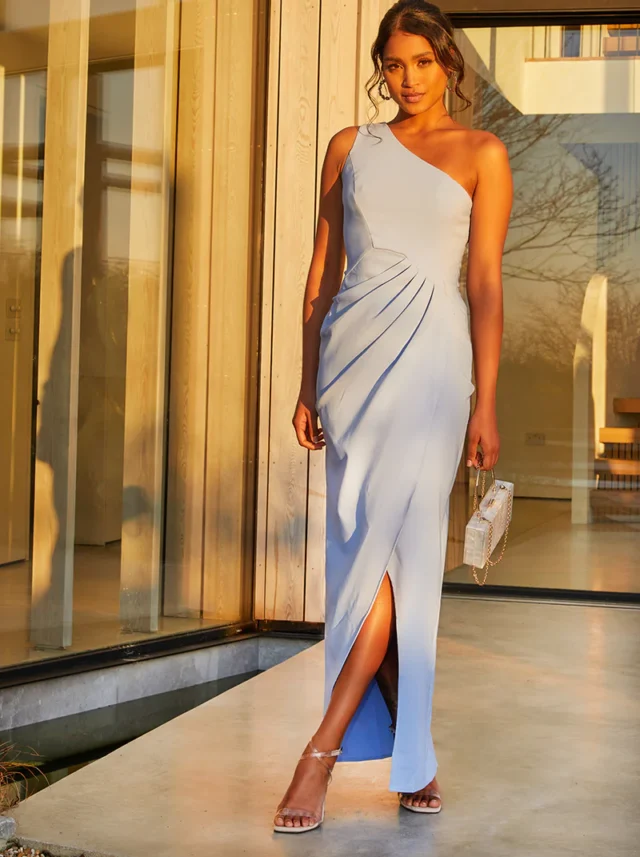 The One Shoulder Dress is a perfect choice for those who want to show off their shoulders while keeping it classy. This design can be both simple or intricate, making it versatile for any occasion.
The asymmetrical cut of the dress gives an illusion of length and adds a touch of elegance to the overall outfit. It's perfect for formal events such as weddings or cocktail parties, but can also work well in more casual settings when paired with the right accessories.
When choosing accessories for your one-shoulder dress, consider adding statement earrings on the opposite side of your bare shoulder to balance out the look. You can also add some edge by pairing it with ankle boots and a leather jacket.
The one shoulder dress is an elegant and stylish option that allows you to show off your shoulders without revealing too much skin. Its versatility makes it suitable for various events whether formal or casual.
Conclusion
Bodycon dresses are a great way to show off your curves and feel confident in your own skin. With these 10 unique outfit ideas, you can easily switch up your wardrobe and try out different styles that suit your personality and taste.
Remember to always choose a dress that fits well and makes you feel comfortable. Don't be afraid to experiment with accessories such as statement earrings or bold shoes to complete the look.
Whether it's for a special occasion or just for everyday wear, these bodycon dress outfits will make you stand out from the crowd and exude confidence wherever you go!