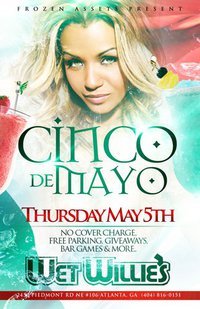 NO COVER – NO DRAMA – NO PROBLEMOS!
This Thursday we are representing for ALL of our Friends
from South of The Border at a CINCO DE MAYO Celebration the
likes of which you have Never seen before. We're gonna
be partying from 4:00 pm until at Wet Willies, home base for
the Coolest Brand of Entertainment in the ATL!
We invite you to come out and Enjoy the wide variety of
signature Cinco De Mayo co**tails we will be featuring, the
Infamous Call A Cab, or a good old fashioned Shot of Patron…
It's the PERFECT recipe after a hard day's work.
WET WILLIE'S
2450 Piedmont Rd NE
Atlanta, GA 30324
Neighborhood: Lindbergh
(404) 816-0151
www.wetwillies.com