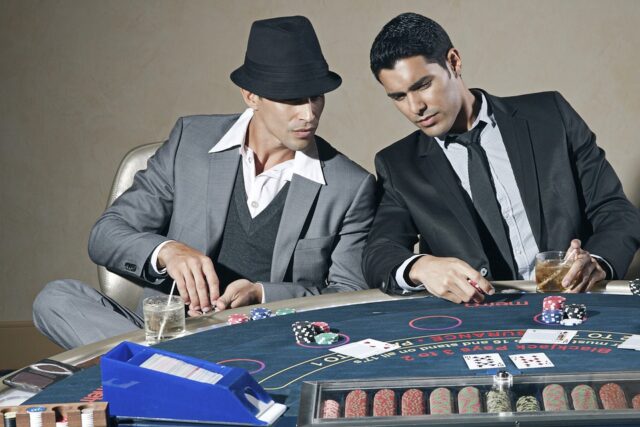 What could be better than Poker at adding instant excitement to a movie? Being a slow paced game that requires immense skill, but being just as much based around luck, Poker is more or less the perfect plot device. At least it is in theory.
The truth is that movies don't exactly do gambling justice most of the time. A problem is that although Poker happens to be immensely popular, it isn't really suited for visual story telling. Rounds tend to go on far too long, visually exciting moments can be few and far between, and worst of all the average person often doesn't understand what's going on most of the time.
There are, however, a few movies that really capture what the game is all about. Let's take a look at some of the movies that not only use Poker as part of the plot, but also do the game justice.
1. The Sting
1973's The Sting is rated as a true classic for a reason. It tells the story of a small time conman that sets off on a quest of revenge, having witnessed a long-time friend die at the hands of a ruthless mobster. But, this isn't the type of revenge that uses violence.
Instead, Johnny Hooker (Robert Redford) decides to con the mobster out of a fortune. As part of the scheme Hooker's friend Henry Gondorff (Paul Newman) must cheat at a game of Poker, giving the world one of the most memorable scenes in movie history based around a game of cards.
As far as accuracy is concerned, the movie goes to great lengths to demonstrate not only how cheating was far more likely in 1936, when the movie is set, but also how it was achieved. Besides the gambling aspect, The Sting is a cinematic masterpiece in just about all regards.
2. Molly's Game
A far more recent entry, Molly's Game was released in 2017. It is seen by many as the most authentic and realistic movie about Poker ever made, telling the real life story of Molly Bloom. Bloom is well known for having run an underground illegal gambling empire, with celebrities and athletes being the primary customers.
Illegal Poker acts as the central focus of the plot, though it is a tale of how Bloom was brought down by the FBI. All in all, Molly's Game may not be as fun loving as The Sting, but is a must-see cinematic experience for those that are interested in the seedier, more underground elements of gambling.
3. Lock, Stock And Two Smoking Barrels
There are few gambling fans that don't know the plot of Lock, Stock And Two Smoking Barrels. The movie serves as a warning to those that are overly confident in their Poker skills, with the central characters being thrown into instant debt. Eddie, Tom, Soap and Bacon manage to raise $100,000 for Eddie, who is a self-proclaimed card sharp. But, it turns out that the mob-run game he takes part in is rigged, resulting in debt of $500,000.
The plot revolves around the youngsters attempting to raise the money, though filmgoers largely remember in the scene in which Eddie loses at cards. Featuring true cinematic flare and impressive visual design, most gamblers are probably familiar with how chaotic and disorienting the world feels when they are on an inexplicable losing streak.
It is thanks to visionary director Guy Ritchie that the card playing scene landed with such impact, putting the movie in the favorite category as far as gambling enthusiasts are concerned.
4. Casino Royale
When James Bond enters a casino, the entire establishment probably lets out a gasp of dismay. As everyone knows, Bond has the superpower of reality manipulation, meaning that it is almost impossible for him to lose at gambling. Or at least, he did have that superpower until 2006's Casino Royale.
With Daniel Craig ushering in a new era of Bond spy adventures, Casino Royale defied expectations when it decided to be a touch more realistic. At least to a certain extent. The British superspy is tasked with preventing a villain named Le Chiffre from financing terrorism, using Poker as his means of distributing funds.
What is most interesting about the film is that it depicts the game as unpredictable as real life, with the superspy not simply waltzing in and slapping down royal flushes. Sure, the book that the movie is based on actually had Baccarat as the game of choice, but the plot is far more exciting this way. Baccarat, after all, is largely about luck, and not skill. Something you can find out for yourself when you play at luckycreek.com.
5. Maverick
1996 saw Mel Gibson take on the role of lovable conman Bret Maverick in the aptly titled Maverick. The movie is controversial in that it combines fantasy with reality as far as Poker is presented, giving a rather mixed message as to the reality of gambling. In many scenes the game plays out as it would in real life, with a high stakes tournament being the central focus of the plot. The tournament progresses in a strikingly realistic fashion, with hopeful players trying, and many being eliminated, as would happen in reality.
The character of Maverick, however, does defy believability in almost every regard. He is portrayed as having the same superpowers as early Bond, being apparently unbeatable.
In the movie's climax he is even depicted as seemingly being able to summon cards at will. With the tournament's ultimate prize up for grabs, and the event having been disrupted by an attempted robbery, the final game is reduced to being decided by single highest card draw. Maverick concentrates, and is somehow able to draw an ace of spades.
There is some hint in the final moments of the movie that it might not have been luck at all, and that he somehow cheated. But Maverick concludes by saying that he managed to draw the ace via "magic." Either way, regardless of how Poker purists feel about how gambling is represented, Maverick is an exceptionally entertaining film that deserves a look.