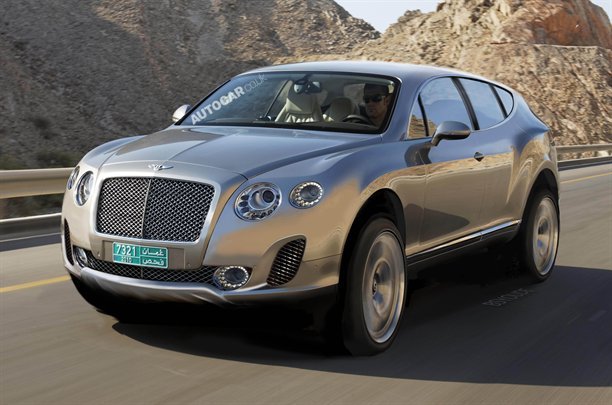 Bentley's new SUV will reinforce its ambition to be the world's most luxurious 4×4 with a flagship model that's powered by a 12-cylinder engine.
"We will be first to use a 12-cylinder petrol engine in a luxury SUV. I like this idea; it makes clear whose car is the boss,"
said Bentley CEO Wolfgang Dürheimer.
The engine is likely to be a next-generation version of today's W12 unit used in the Continental family.
Dürheimer said he likes the packaging advantage of the W12 compared with a V12, although the SUV's engine bay is likely to be designed to accept a vee engine as well.
That's because Bentley plans a V12 TDI version of the SUV a few years after launch. This V12 is likely to be a next-gen version of Audi's 493bhp 6.0-litre V12 TDI, which has been used so far in only the £100k Audi Q7.
To get the SUV into production, Bentley has recruited a new chief engineer from Porsche, Rolf Frech, to replace Ulrich Eichhorn. He brings extensive SUV engineering experience to Bentley, having worked on Porsche's Cayenne.
Bentley has pencilled in a 2015 launch date for the SUV (which is shown here as an artist's rendering), a year that fits Dürheimer's strategic plan for the SUV to bolster Bentley's product range at a time when sales of other models are expected to dip.
"The production date will be dictated by the cyclicity of models," he said. "The Mulsanne came in 2010, then the Continental no more than a year later. The lifespan of a model is usually six to eight years, so the new model will be valuable when we are expecting a lull. The downswing is the time to introduce this SUV."
Dürheimer is now convinced of the case for Bentley's SUV.
"Ninety-nine per cent of Bentley owners also own an SUV," he said. "I am absolutely sure the demand is there."

"Absolutely thousands of premium SUVs have been sold — Cayennes, Range Rovers, Q7s and so on — but nobody has given those owners the chance to upgrade. We will."
This SUV looks super husky. Are you feeling it?