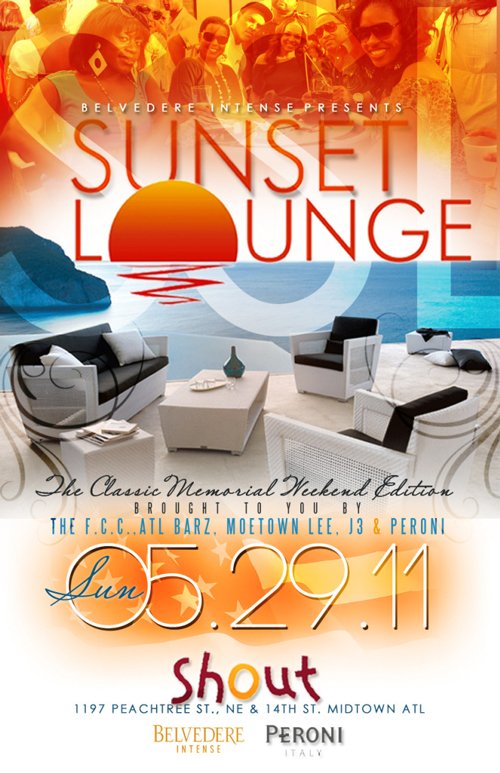 This is you last chance to get in free for today's day party at Shout! It's about to be crazy people, so dont think you're too cool to RSVP! THE SUNSET LOUNGE IS THE BEST DAY PA
$7 Belvedere Intense & Belvedere Sunrises ALL DAY/NIGHT LONG!
$4 Peroni Beer ALL DAY/NIGHT LONG! The Sunset Lounge is produced by Atl Barz, Moetown, and yours truly your girl's favorite promoters The F.C.C.! This is the same crew from day 1! We don't have to had 15 additional promoters because it's holiday to try make our party seem larger than life…it already is!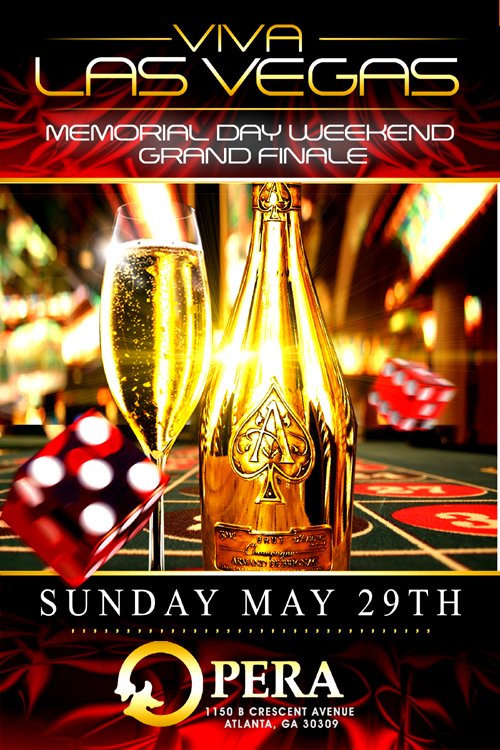 The MEMORIAL WEEKEND GRAND FINALE goes down on Sunday night, May 29th @ Opera (1150B Crescent Ave., Atlanta, GA 30309)!
ALL LADIES ARE FREE 'TIL 11:30 and the GUYS ARE FREE 'TIL 11PM…what more can you ask for???
We joined forces with some of the key players in Atlanta nightlife to form an All-Star team capable of bringing you a party so hot you'll think you're in the middle of the desert! You'd have to go to Vegas to find a party like this….so save your flight money and don't gamble your fortune! "This party is a sure thing" (In our best Miguel voice)
Music is brought to you by Dj Holiday, Dj Know It All, & Stefan The Dj!
Opera is goin' to be a major problem Sunday night! This is the biggest and best party you can find in the city of Atlanta this Memorial Day weekend! Even better, it's a block away from The Sunset Lounge @ Shout so the PARTY DOESN'T STOP!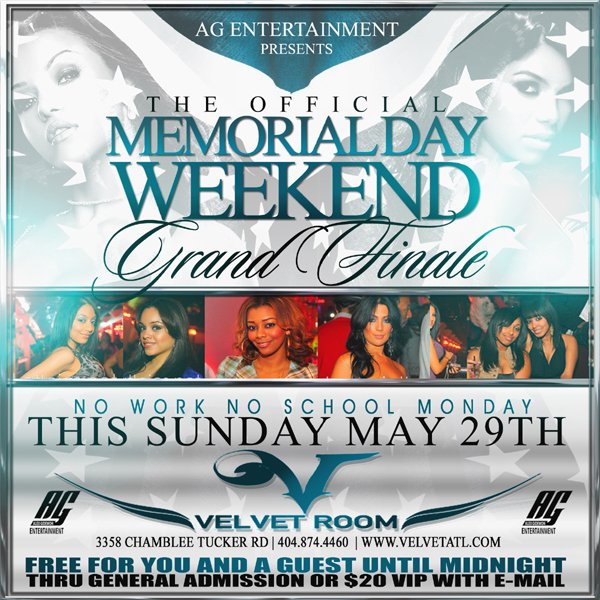 AG Entertainment Presents… Sunday Nights @ The Velvet Room with the THE MEMORIAL WEEKEND GRAND FINALE This Sunday May 27th @ The Velvet Room 3358 Chamblee Tucker Rd, Atlanta, GA 30341
|Doors Open at 10PM| Free For You & A Guest Until Midnight Through GA or $20 VIP All Night w/ eMail Pass| For Table Reservations & VIP: 404.874.4460

"REHAB" PENTHOUSE POOL PARTY @ LOCATION REVEALED 396 PIEDMONT RD ATLANTA GA THIS MEMORIAL DAY SUNDAY MAY 29th