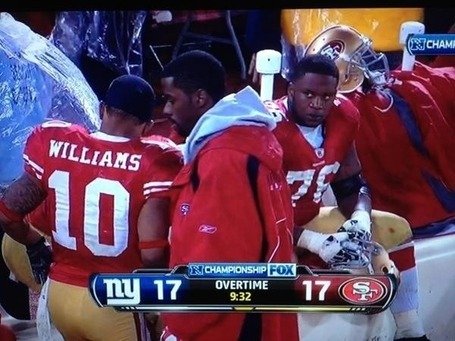 Kyle Williams, San Francisco 49ers wide receiver and punt returner, have been receiving death threats and harsh words via Twitter on Sunday, after fumbling the last punt of the game. This fumble placed the New York Giants' in a position for the game-winning field goal in overtime.
@KyleWilliams_10. I hope you, youre wife, kids and family die, you deserve it
JAVIER PASQUEL
20 hours ago
ReplyRetweet
"
Jim Harbaugh, please give @KyleWilliams_10 the game ball. And make sure it explodes when he gets in his car.
Justin Junio
20 hours ago
ReplyRetweet
"
Yo @KyleWilliams_10 as long as your paycheck clears that's all that matters right??? The Vegas fix was on huh?
Mind Motion
16 hours ago
ReplyRetweet
"
@KyleWilliams_10 you're going to be like Rudy for the rest of your career! #RudyRudyRudy #TheFirstTeeAwaits
David Fenton
16 hours ago
ReplyRetweet
"
@KyleWilliams_10 boy u got the 49ers faithfuls all over your ass lmao
Jon Willis
20 hours ago
ReplyRetweet
"
@KyleWilliams_10 two costly fumbles #reallydude? Enjoy the entire offseason knowing YOU cost us the Super Bowl I pray we resign Ginn #smh
Rashad Bates
16 hours ago
ReplyRetweet
"
Kyle Williams… you need to leave San Francisco forever, you should never be allowed to play in the NFL ever again… Your play and ypur post game comments should be enough to earn yourself a spot in 49ers history's… As the biggest POS to ever wear the red and gold. Lots of hope for next year, let's just hope that KW gets hit by a bus, eaten by a lion, or dies in some other terrible way so he can't ruin the 49ers season again… What a terrible piece of garbage you are KW, you ruined the game I have been waiting for over 10 years…
Sounds like these guys lost some serious cash on this game cause it's not that serious to be wishing some ones whole family was dead over a game. Thoughts?