No 15 yr old high school baller should be compared to a NBA elite hooper but you can't help but to see the similarities in the two of them. One such case may very well turn out to be exciting Class of 2013 big man Aaron Gordon, who is now regularly being compared to 2011 NBA Rookie of the Year Blake Griffin.
If the name sounds familiar, it should since Aaron is the younger brother of former UCLA standout Drew Gordon, who has since transfered to play for New Mexico. While his older bother Drew was once an elite level prospect in the 2008 Class, Aaron has the chance to be something special as he currently ranks as the #9 overall prospect in the Junior class with plenty of room to grow.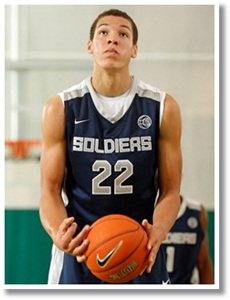 Over the past year, Aaron has become much more ferocious in games as his formerly long and lanky 6'7 frame has filled out a bit to reach 210lbs. If you remember, he really started getting some national buzz halfway through his sopho**re season at Archbishop Mitty in San Jose, CA when he finished off a sweet 360 off the backboard in live game action. He stars in the offseason on the highly ranked AAU Oakland Soldiers and has already been chosen to represent USA Basketball on the 16U squad.
To put things plainly, Gordon seems to enjoy inflicting pain on both, opponents getting in his way and home and visiting rims, as he finishes harder than virtually anyone else in the high school ranks, regardless of class. But what gives Aaron a chance to be really special is that he has a rapidly developing all around game where he can either nail the elbow jumper or use his extreme athleticism to take his man to the rack.
He also has become an above average shot-blocker, offensive rebounder, and is hands down one of the best passers in the class. Then, if all else fails, he seemingly just
in proximity of the rim, like most recently at the Pangos All American Camp. Many scouts think that he has a chance to play both forward spots at the next level.
As one could imagine, Gordon is a hot prospect on the recruiting front, as he is arguably the best West Coast prospect still on the board in his class. His favorites include a who's who among top tier schools West of the Mississippi with Kansas, Washington, Arizona, Cal, Oregon, and Stanford all in the lead in attempting to secure his services. Hoop Doctors
Thoughts?