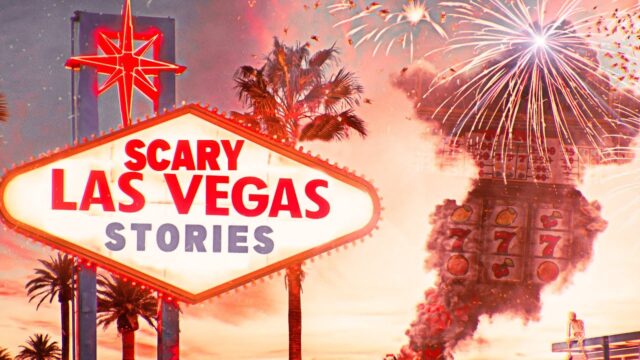 Tobey Maguire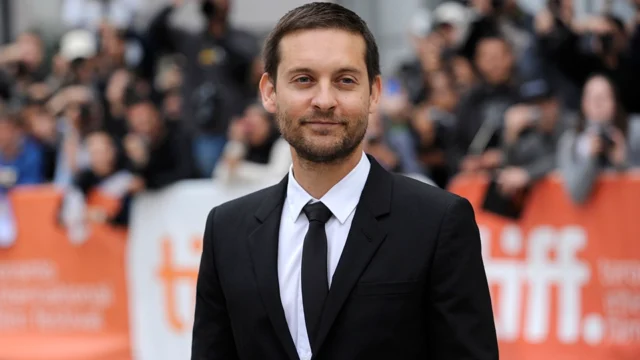 With parents who divorced while he was still young, Maguire spent a lot of his early years between his father's house in Washington, and his mother's house in California.
It was his mother who first encouraged him to take up acting, and it was thanks to her persistence (and her ferrying him to and from auditions) that he got his first on-screen role – a one-liner in the sitcom Roseanne.
This was soon followed by two lines in Blossom – and buoyed by this success, Tobey dropped out of high school at the end of the ninth grade, determined to devote his time to acting.
A number of near misses followed: Maguire was cast as the lead in the 1992 Fox series "Great Scott", about a high school freshman and his overactive imagination – but it was canceled after just 9 weeks. In 1995 he tried for the lead role in Empire Records but was given only a small part – which he eventually walked away from.
In 1996 Tobey starred in "Duke of Groove" – a short film that was later nominated for an Oscar. The attention he gained led to a part in Woody Allen's 1997 film "Deconstructing Harry", and Ang Lee's "The Ice Storm" the same year. Maguire was finally established – and a string of other roles came his way.
His breakout hit came in the form of 2002's Spider-Man – a role that he was paid a massive $4,000,000 for. Just as Peter Parker made the transition from awkward teen to web-spinning superhero, Maguire made the transition from jobbing actor to Hollywood royalty.
Underground Poker
Like so many other movie stars, Tobey Maguire is a real casino fan – known for his love of high-stakes poker. Although according to Molly Bloom, who used to organize underground poker games for Hollywood's richest players, while he's a great player "he's a sore loser. And a worse tipper".
According to Bloom, Maguire once asked her to bark in return for a $1,000 tip. She understandably refused. Bloom used to refer to Maguire as Hannibal Lecter "because he could just talk someone off of a good hand".
In 2011 Tobey Maguire was one of a number of high-stakes players sued by investors in a Ponzi scheme run by convicted fraudster Bradley Ruderman. Ruderman had paid Maguire a poker debt of $311,000 using money he"d stolen via the scheme. Maguire settled out of court, paying $80,000 to each of Ruderman's former victims.
Nelly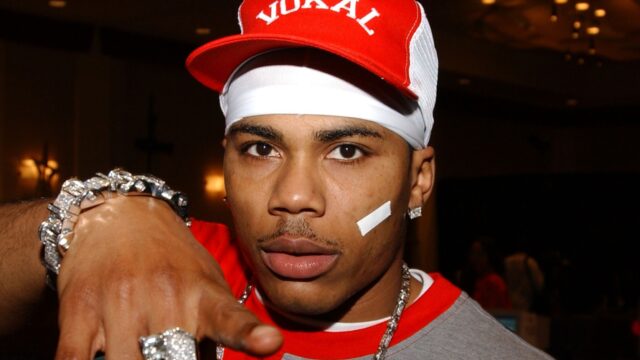 Born in Austin, Texas in 1974, Nelly grew up in St Louis and formed his first rap group in high school. The group, St Lunatics, even had some success locally with their 1996 single "Gimme What You Got" – but it wasn't until Nelly went solo that he started to get serious industry attention.
Eventually signed by Universal, Nelly's first album "Country Grammar" was released in 2000 – and went nine times platinum, reaching No.1 in the album charts.
Now that Nelly had made it big in his own right, he decided the time was right to bring the focus back to the St Lunatics. In 2001, the group released their own debut album "Free City" – and buoyed by Nelly's own success, it went platinum.
Nelly's second solo album "Nellyville" was released the year after – and that went six times platinum. The single "Hot in Here" reached No.1, and won Nelly a Grammy Award in the process.
In 2004 Nelly released two albums at one time – Sweat (an album with an R&B feel), and Suit (full of more traditional rap music). On the week of their release, Suit topped the charts at No. 1 and was closely followed by Sweat at No. 2.
To date, Nelly has released 9 successful studio albums – and also runs two clothing lines: Apple Bottom and Vokal. His charity, the 4Sho4Kids Foundation, aims to tackle some of the biggest health issues facing children today.
Naughty Nelly
Nelly is one of the many stars to have appeared on the World Series of Poker over the years – but his presence hasn't always been such good news for the casino business.
Back in 2004, the "President Casino" in St Louis faced a fine of up to $50,000 after reportedly allowing Nelly to bypass the state of Missouri's rules during a birthday trip he made to the US casino (more on the site). In Missouri, gamblers must use an electronic ID system to keep them from withdrawing any more than $500 of chips every 2 hours. According to the Missouri gaming commission, staff at the casino were found to have actively helped Nelly and his entourage to bypass the system.
Nelly's gambling also hit the headlines more recently. Back in 2011, a fallout with his one-time promoter 'slim" led to claims on Twitter that his gambling debts had brought him close to bankruptcy. Nelly vehemently denied the claims.
Whatever the truth of the matter, we hope to be seeing Nelly and his gold tooth back on our screens in the World Series of Poker soon.
Vanessa Selbst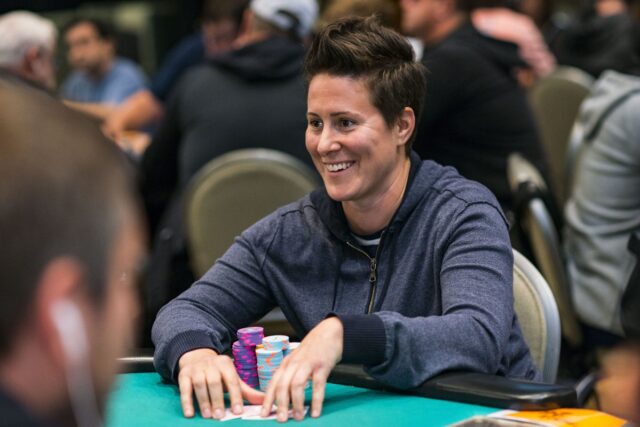 Selbst was born in Brooklyn, NY in 1984 and began playing poker at age 22 – later than some of her fellow professional card players who started in their teens or younger. She is an Ivy League graduate, having studied political science at MIT as an undergraduate before switching to Yale, graduating there and then moving on to Yale Law School, graduating with a Law Degree in 2012. She chose in 2010 to play poker professionally, feeling more of a draw to the tables than to the library.
Arguably the most famous woman in the world of professional gambling, and certainly in the world of poker as the only woman ever to have reached world ranking #1, Selbst has to date won three gold bracelets – the only woman to have won so many, and earnt over $11.5m (US) at 2015. Her playing style is loose-aggressive.
High Roller Celebrity Shoot Out
In summer 2015, she took part in the Super High Roller Celebrity Shootout, pros vs celebrity tournament. On one table, professionals played off against each other – including giants of poker Phil Hellmuth, Antonio Esfandiari, Doyle Brunson, Daniel Negreanu, and, of course, Selbst herself. On the other table were Don Cheadle, Hank Azaria, Norm Macdonald, Brad Garrett, and Kevin Pollak. Pollak won for the celebrities, Selbst for the professionals and the two faced off in a three-round game to determine the overall winner. Selbst won the tournament, taking home a $1m pot.
The win not only cemented her status as the most successful woman poker player, but it also took her winnings to double that of her nearest rival – Kathy Liebert whose winnings sit at just under $6m. Her success shows no sign of abating and she is still the only woman to have won back-to-back titles at WSOP.
Personal Life
During her time at Yale, Vanessa Selbst was head of the Queer-Straight Alliance; she is herself a lesbian and married her long-term partner Miranda Foster in 2013.
Selbst donated part of her $1m winnings from the High Roller Celebrity Shootout to her own charity Venture Justice that provides money to a variety of causes.
In September 2015, she hosted the Blinds & Justice 2015 one-night poker tournament to fund Urban Justice Center. It was the first event of its kind for a charity that provides funds to help the vulnerable in New York with legal aid, amongst other things.