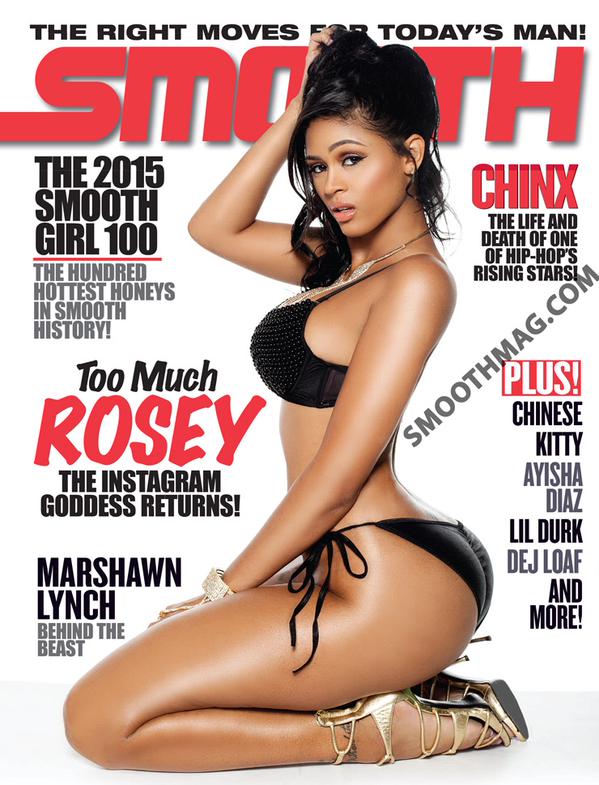 This native Chicagoan calls herself Too Much Rosey, but we don't think it's possible to have too much of such a good thing.
Why don't you give us a little background on yourself?
My name is Rosemary, but you can call me Rosey. I'm originally from Chicago, but I now live in Atlanta, where I own a modeling agency. I also study skin as an aesthetician.
Why do you call yourself Too Much Rosey?
Because you can never have too much of me! I'm that bitch! [laughs]
How does it feel to be a SMOOTH Girl?
It feels great. I've actually tried to be in SMOOTH for the last couple of years. I finally got my boobies, and I guess Sandy loved them. [laughs] I'm very excited to be here.
How do you think your shoot went?
I think it went great! I was scared of the animals at first, especially the snake, but all that aside, it was all really dope and I really enjoyed it.
What did you think about the body paint?
The body paint was crazy. The artist killed it! I was a cheetah the first day. We were trying to get the real cheetah to come with us, but the motherf-cker wouldn't cooperate so we couldn't shoot it. The look was still dope. The second shoot, I was a zebra and that was sick! I was in 50-degree weather in freezing water trying to get my shot.
What about your fellow SMOOTH Girls? Do you feel like the competition is thick?
Absolutely, I think the competition is crazy right now. You have all types of exotic, sexy women—and I'm trying to f-ck them all. [laughs] I'm just playing!
We take it you like females. 
Yes, I enjoy a sexy woman, absolutely.
Have you been with one before?
Sure, what woman hasn't? You're not a grown woman if you haven't been with another woman.
Read More HERE