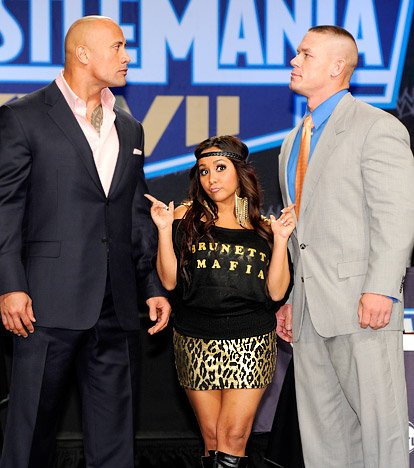 Snooki, also known by her real name of Nicole Polizzi, got a phone call from the offices of Vince McMahon and the WWE. After some negotiations, Snooki was officially booked to go to Atlanta on April 3rd for WrestleMania 27.
After appearing on a few episodes of WWE Monday Night RAW, Snooki found herself in a feud with WWE Divas Michelle McCool and Layla.
What resulted is a match at Mania. Snooki is going to team up with WWE legend Trish Stratus and superstar John Morrison to take on McCool, Layla, and Dolph Ziggler.
Many have criticized her involvement.
Those who do not believe professional wrestling is worthy enough of mainstream media feel that Snooki is wasting her time stepping into the squared circle.
Fans of professional wrestling are not pleased to see Snooki wrestle. WrestleMania always has celebrity guests, whom the fans love, but many do not like to see the outsiders of the wrestling world get into the ring. The fans of the WWE are used to seeing stars like Shawn Michaels, Stone Cold Steve Austin, The Rock, and Triple H headline WrestleMania.
This year, the show is going to be headlined by a few main event matches.
Randy Orton will take on CM Punk. The Miz is going to defend his WWE Championship against the biggest star in the wresting world today, John Cena. Edge will defend his World Heavyweight ti*le against the winner of the Royal Rumble, Alberto Del Rio. And The Undertaker will put his 18-0 WrestleMania winning streak on the line against Triple H.
The show will also feature Stone Cold Steve Austin and the return of The Rock to a WrestleMania event after a seven-year absence from the WWE.
While there are mixed reactions to the involvement of a reality TV star with the WWE, overall fans of the product are sure to enjoy a great show put on by one of the biggest entertainment companies in the world.