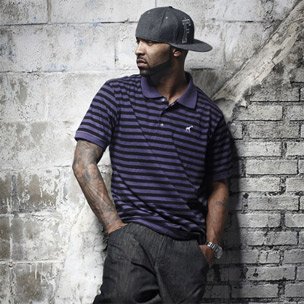 When leaking your own nude goes wrong..A nude photo of Joe Budden's genitals has leaked onto the web, and it came up short of creating the buzz he wanted, a lot of people have been cracking jokes on the Slaughterhouse member.
 Joe hit up his Twitter account to set the record straight, claiming that his account was hacked and that the picture in question was altered to make him look less than…impressive.  However, other reports on the matter have claimed that the picture was stolen from Joe's phone and that it is not an altered image.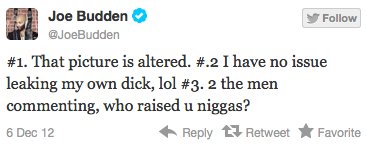 He sent a statement via his rep saying:
"I have always been very honest and transparent with my fans. I have been fearless in everything I do. I stand behind ALL of my actions. So, seeing the post today was just as much as a surprise to me as it was to everyone else. So, to put the rumors to rest, that is not me, JOE BUDDEN. I'm willing to put any of my exes (not the angry ones of course, I digress) on the stand to prove this. Thanks for paying attention, go download my mix tape "A Loose Quarter" , look for my album, request my single, "She Don't Put It Down Like You" with Lil Wayne and Tank, and look forward to seeing a lot more of me January"-Joe Budden
Joe also tweeted today:
1 things for sure tho…. I'm getting famous again.
The pic in question is below (Click the image for the uncensored pic):