Lala Anthony has been accused of cheating on Carmelo with a woman's boyfriend.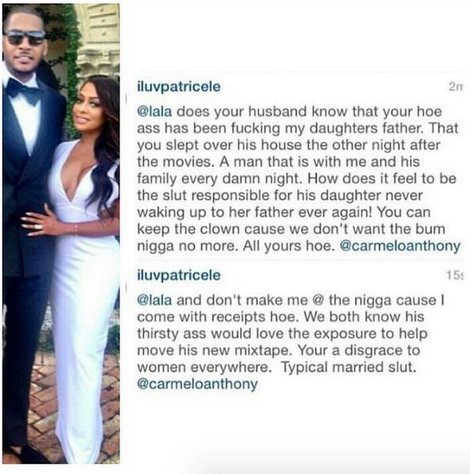 This woman claims LaLa has been spending the night with her man.
In other related news..
Carmelo Anthony seems pretty intent on returning to the Olympics next year. And, from Anthony's words, so are LeBron James and Chris Paul.
"We [James, Paul and I] talk about it [winning gold in Rio] all the time,'' Anthony said, according to the New York Post. "Just about how we want to go out and end it the next year with the Olympics, just how much we want to take from this experience. I'm going on four [Olympics], LeBron is going on four. Paul going for three. We're connected by the hip.''
James and Anthony were the youngest members of the 2004 U.S. Olympic team that earned bronze in Athens, the first time since 1988 that the Americans didn't take gold.
They returned as part of the Redeem Team in 2008 and again in 2012 in London.