(Rumor) Lebron James enroll his kids in LA School for fall semester
Wow. The rumors are really heating up with LeBron James headed to Los Angeles after he won a championship with Cleveland Cavaliers. This is not a rumor and is an actual fact that James's kids are enrolled in school in Brentwood, CA.
He also bought a mansion in Los Angeles, last year, so the rumors are really piling up on this situation. Many believe LeBron would be crazy to leave the Cavaliers, but crazier things have happened in the NBA:
LeBron James Rumors: Lakers Reportedly 'In the Mix' If Star Leaves Cavaliers
http://bleacherreport.com/articles/…eportedly-in-the-mix-if-star-leaves-cavaliers
LeBron's Cleveland mission is done: Lakers next? Knicks? Heat?
http://nypost.com/2016/06/21/lebrons-cleveland-mission-is-done-lakers-next-knicks-heat/
NBA Rumors: LeBron James To Join Lakers If He Leaves Cavaliers Again?
Read more at: http://nesn.com/2016/06/nba-rumors-lebron-james-to-join-lakers-if-he-leaves-cavaliers-again/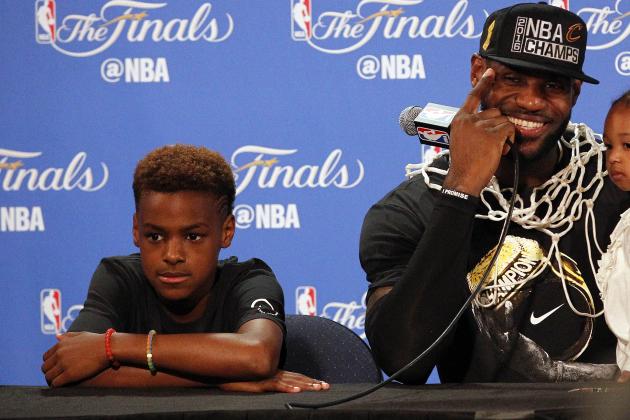 LeBron James Jr. Reportedly Has Scholarship Offers from Duke, Kentucky
Dave McMenamin and Brian Windhorst reported Monday that LeBron Jr. has "standing scholarship offers" from the Duke Blue Devils and Kentucky Wildcats.
LeBron Jr. will also likely be able to count on a scholarship from the Ohio State Buckeyes if they haven't already offered him one. LeBron James has said in the past to reporters he would've attended OSU if he hadn't entered the NBA right out of high school. In 2014, Buckeyes head coach Thad Matta also said LeBron Jr. would be on his "recruiting radar," per Zac Jackson for Fox Sports Ohio.
Most basketball fans first became aware of Lebron Jr.'s ability on the hardwood at John Lucas All-Star Weekend in 2015: