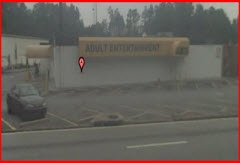 The owner of a DeKalb strip club was shot and killed Tuesday afternoon, according to an employee at the scene.
An employee of Pin Ups, located just east of Decatur on E. Ponce De Leon Ave, said owner Terry Stephenson was killed. The employee was visibly upset and did not wish to be identified. The AJC is trying to confirm the information.
DeKalb police are on the scene.
Official details are sketchy at this point, with no information available about the shooter, said DeKalb police spokeswoman Mekka Parish. The shooting was reported to police around 1 p.m. An employee who answered the phone at the club said she was not allowed to comment.
An AJC reporter at the scene said police are looking at a black Ford F-150 parked outside the club's entrance. Police have left markers around the truck, apparently to indicate the location of shell casings.
Employees who were on duty at the time of the shooting are not being allowed to leave the building.
Chi Chi Mozeaks, of Stone Mountain, said her friend works in the club, "He heard some gunshots and saw two guys [running]. They were so loud he though it was coming from inside the building."
Mozeaks said the victim was shot outside the club. Source
Not a good look for Dekalb county strip clubs if it was after hour's then they would use this killing as a reason to shorten the clubs hours.
According to some dancers at Pin Ups he used to do bank runs. He hadn't been doin' bank runs for at least a year. He did not see it smart to continue so he hired a dude to do JUST THAT. It seems however, that someone was under the impression he still did, and ran up on him in the parking lot. Shot him in broad daylight like 7 times.
Newest message board posts:
2012 Bentley Continental GT
Jermaine Dupri – I think i'm berry gordy
Kat Yun-Marie Homegrown Pics