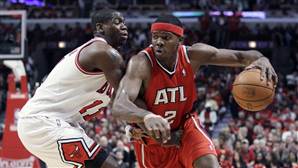 Joe Johnson scored 34 points and the Atlanta Hawks beat Derrick Rose and the top-seeded Chicago Bulls 103-95 on Monday night in Game 1 of the Eastern Conference semifinals.
As if the loss itself wasn't bad enough, the Bulls got a major scare when Rose came up limping at the end of the game. Their MVP candidate stepped on Jamal Crawford's foot as he dribbled out the final seconds and was helped off by teammates and a trainer.
The Hawks went on a 15-2 run that bridged the third and fourth quarters to turn a 69-65 deficit into an 80-71 lead with 10:27 remaining. Johnson hit three 3-pointers and scored 11 points during that stretch, and the Hawks hung on. Game 2 is Wednesday night at the United Center. NBC
The question is can Joe Johnson remain consistent through out the play off series.
Newest message board posts:
Jay Z, Beyonce Attend Nephew's Graduation [Pictures]