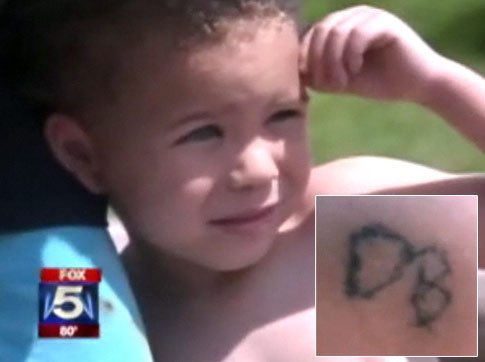 A Georgia man was let off with a slap on the wrist after pleading guilty to tattooing his 3-year-old son.
A judge in Floyd County, Ga., ruled on Monday that Eugene Ashley must pay $300 and serve 12 months probation for giving his son a tattoo on his shoulder that said "DB" – short for "Daddy's Boy" – in 2009.
Ashley was arrested about a year later after an official from the Department of Child Services visited his house and spotted the tatted up tyke, the Rome News-Tribune newspaper reported.
It's illegal in Georgia to give a tattoo to someone younger than 18.
Prosecutors called the crime "egregious," but said that it would have been difficult to prosecute because it would rely solely on the toddler's testimony.
"I don't know if we would be able to elicit a testimony from a child,"
Patterson told the paper.
Ashley said he was drunk and didn't remember giving the toddler the tattoo, Georgia's WSBTV television reported.
The boy was taken into custody by child services and is now living with his uncle.
The uncle, George Hawkins, said that the boy remembered the tattoo and recalled that it hurt "a little bit," the station reported.
In July, another Georgia couple was slapped with child cruelty charges for tattooing six of their children with a crude needle made from a guitar string.DailyNews
Thoughts?
Newest message posts:
9 minutes to a six-pack stomach (Videos)
Wedding bells for Big Ben: Steelers QB set to marry in July
Andrew Bynum will train with roger mayweather this off season
Dwayne 'The Rock' Johnson Wants In For 'Call of Duty' Movie
Svetlana from The Real World