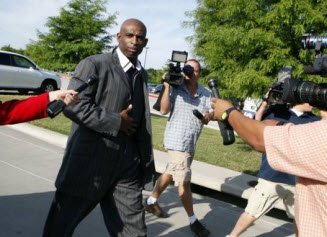 McKINNEY — Deion Sanders was ordered Tuesday to pay $10,550 a month in child support and $3,500 a month for the Celina home where his estranged wife lives.
A Collin County judge also ordered the former Dallas Cowboy to pay $275,000 in legal fees incurred since April 30 by his wife, Pilar, in their contentious divorce case.
He was not required to pay any spousal support.
Before court convened for the day, the two reached an agreement for the shared custody of their three children this summer. Complete details of the arrangement were not publicly disclosed.
According to lawyers, the children, 12, 10 and 8, will finish the school year where they are: the two boys with their father in Prosper, the daughter with her mother in Celina. They'll start the summer with all three living with Pilar Sanders. If necessary, a court ruling will be sought later regarding subsequent primary custody.
"We had a very good day in court today," Pilar Sanders said, "and we made an agreement that everything is obviously going to be in the best interest of our children."
Last week, State District Judge Ray Wheless ordered her to move out of the Prosper mansion that she and Deion Sanders have shared since 1999, and the two were ordered to stay at least 100 feet apart at all times.
Those rulings came on the heels of a heated confrontation between the two in the Prosper home. Pilar Sanders was arrested on a misdemeanor assault charge, but Judge Wheless later ruled that neither party was guilty of domestic violence.
It's been clear from testimony in the case that the couple's three children have often witnessed outbursts between their mother and father. Read more here.
Newest message board posts:
Eddie Murphy's first appearance on The Tonight Show
LMAO @ This Jay Z & Freeway Pic
Oprah's Brand New Interview With Paris Jackson To Air in Summer 2012 on 'Next Chapter