Saturday (September 7th) Brick Squad had a world war that solidified the ending of the label as we once knew it. The argument pitted Gucci Mane and OJ Da Juiceman against longtime associates Frenchie, Waka Flocka and Wooh Da Kid.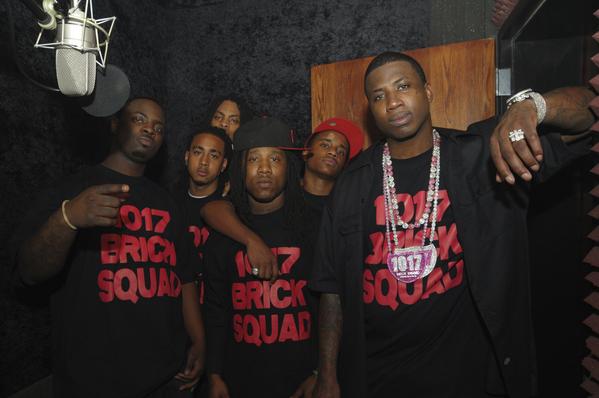 Frenchie accused Gucci of stealing from his artists and paying for the lawyer of Slim Dunkin's killer, Young Vito. Guwop responded by claiming that Waka's mother/manager, Deb Antney, stole money from OJ Da Juiceman.
Waka also threatened to expose Gucci for not being the gangster he proclaims to be. He pointed out two instances, one in Detroit and the other in Chicago, where the 1017 Brick Squad boss reportedly needed help getting out of street beefs.
I did not pay for a lawyer for guy who killed slim dunkin. Thats a, lie. I luv dunk.

— Gucci Mane (@gucci1017) September 7, 2013

Fuck bricksquad im. Sucka free. 1017

— Gucci Mane (@gucci1017) September 7, 2013

Self explanation is a form of guilt. I've helped many careers along the way, now it's time too help my team and I. #HopeYouMufuckasReady

— Waka Flocka Flame (@WakaFlockaBSM) September 7, 2013

I cant rep Bricksquad. Every artist I bought a bricksquad chain. Let a ni**** rob them for it. Every chain. Pitiful fux bricksquad

— Gucci Mane (@gucci1017) September 7, 2013

Guwop dont get robbed. All. Bricksquad members been shot. Think abiut it every1 but Ceo

— Gucci Mane (@gucci1017) September 7, 2013

ni****s like #IceCreamCone make the trap look bad #35yearoldKid lol

— Waka Flocka Flame (@WakaFlockaBSM) September 7, 2013

The Internet is one thing. But the streets know #IceCreamCone got more security then the president #StudioThug

— Waka Flocka Flame (@WakaFlockaBSM) September 7, 2013

When I met #IceCreamCone he was wearing cowboy boots and clear Jordan's #Rns

— Waka Flocka Flame (@WakaFlockaBSM) September 7, 2013

Them Detroit ni**** had #IceCreamCone shook ask #Sweets&Trick save to puss ass #StudioThug

— Waka Flocka Flame (@WakaFlockaBSM) September 7, 2013

@gucci1017 were that Mighty Mouse chain at that Sh*t been San Francisco chilling way before 2chains lost his wallet in the bay

— Frenchie (@FrenchieBSM) September 7, 2013

Fuck @OjDaJuiceman32 to you a b**** ni****h, you was just crying to me about this ni****h. Stand ya grounds Pu$$y ni****h. #Facts

— Wooh Da KId (@WoohDaKidBSM) September 7, 2013

@OjDaJuiceman32 Gucci been treating u like a b**** making songs about u and all. YouLike Smokey To Debo When He come Around lol #Facts

— Wooh Da KId (@WoohDaKidBSM) September 7, 2013

Waka signed to Gucci. Scooter signed To Gucci. Thugg signed to Gucci. Everyone else I don't even want da money back I invested.

— Gucci Mane (@gucci1017) September 7, 2013

@gucci1017 you fuc**** stole money from us being a lable you fuc**** snake

— Frenchie (@FrenchieBSM) September 7, 2013

@gucci1017 waner Bros gave you the sack for BrickSquad and you blew the money fagot rickross got the same deal for his artis

— Frenchie (@FrenchieBSM) September 7, 2013

@gucci1017 you ain't a Boss you a thief WE MAde BRICKSQUAD ni****

— Frenchie (@FrenchieBSM) September 7, 2013

@FrenchieBSM I gave. D whole bricksquad advance to deb to split with yall ask Wooh. It got him out of jail. I swear I got not 1 cent

— Gucci Mane (@gucci1017) September 8, 2013

60 k. French montana. Was. Laying in deb bed. Ask. Warner. 60 k advance I took as insult gave to your aunt t. Im rich b****

— Gucci Mane (@gucci1017) September 8, 2013

Ask french montana. He probaly never had seen 60. My Lil boy 6 yrs old frenchie he can. Wipe his ass. Wut a 60. She stoke 500kfrom oj

— Gucci Mane (@gucci1017) September 8, 2013

Yall. Following. A blind lady. Go get u a, dog or a, flashlight. I bought all dem chains 4 yall. To let a ni**** take from yall. Pu$$y

— Gucci Mane (@gucci1017) September 8, 2013

@gucci1017 that Sh*t hurt my heart to here you payed for that ni**** lawyer I never say Sh*t fu**** up to you but now enuff is enuff

— Frenchie (@FrenchieBSM) September 8, 2013

All. My artist I sign I give 200k or better ask scooter ask waka. All my ni****s up

— Gucci Mane (@gucci1017) September 8, 2013

@FrenchieBSM you know I didnt pay 4 lawyer for buddy he a stranger I rock wit gz. U hurt cuz. U hungry and homeless prove I did sum

— Gucci Mane (@gucci1017) September 8, 2013

U aint signed to bricksquad Waka iz trash. What album frenchie drop?

— Gucci Mane (@gucci1017) September 8, 2013

@gucci1017 ni**** I just beat my GUN charge they just gave me back my passport I got a show overseas before you Pu$$y you never left the USA

— Frenchie (@FrenchieBSM) September 8, 2013

Tomorrow official @gucci1017 diss record dropping on @TRAPAHOLICS new Trap Music mixtape stay tuned #BSM pic.twitter.com/Bzhj9v7RGh

— Frenchie (@FrenchieBSM) September 8, 2013
Atlantic offered 250 to me 4 waka. I fired my lawyer for passing me dat dumb ass message. Honest

— Gucci Mane (@gucci1017) September 8, 2013