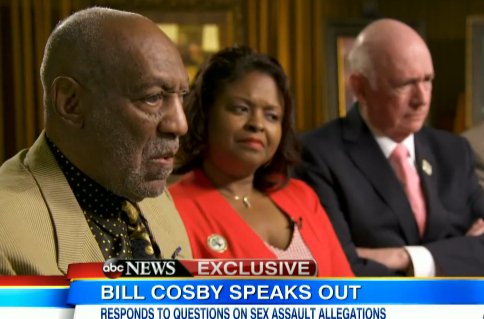 Bill Cosby has finally responded to the large number of rape allegations that have plagued him for the past few months. In a pre-recorded interview with Good Morning America that aired today with barley any promotion, Cosby revealed that he was puzzled by the controvesy.
"I have been in this business over 52 years and I have never seen anything like this," he said. "The reality is the situation. And I can't speak."
Toya Wright and Reginae Carter at Backstage at Toya's Show
Linsey Davis, the interview conductor, went on to ask the 77-year-old about the allegations that he drugged and raped various woman, but Cosby dodged the question. "If a young person comes up to you and says, 'My mom says you've done some bad things,' how will you answer them?," Davis asked.
The iconic TV dad gave this confusing response: "I am prepared to tell this young person the truth about life. I'm not sure that they will come like that," he said. "I think many of them say, 'Well, you're a hypocrite. You say one thing, you say the other.' My point is, okay, listen to me carefully. I'm telling you where the road is out. I'm telling you where you're driving you're going to go into water and it looks like it might only be three inches deep, but you and your car are going to go down. You want to go here or you want to be concerned about who's giving the message."
Despite the backlash he has received from both his fans and peers alike, Cosby does not intend on allowing the events to affect his legacy. "I really know about what I'm going to do tomorrow," he said. "I have a ton of ideas to put on television about people and their love for each other." NBC, however, dropped his sitcom back in January.
More of the interview will air tonight on Nightline.

ABC News Videos | ABC Entertainment News
Whaaaa?