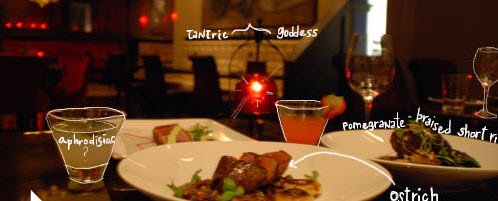 Looking for a lounge in the Buckhead area with good food and a romantic atmosphere.. then Tantra restaurant & lounge is the spot for your looking for. The smooth loungey music, the lowered lights, the sultry decor, even the names of the co**tails are all designed for guests to relish their surroundings. How can you not enjoy the ambience when you're sipping on a jalapeno-infused 7-Year Spice while listening to music straight out of a Parisian lounge? This lavish little pleasure den of a restaurant is decked out with some seriously sultry decor, including a tantra chair that might be calling your name.
Click here to save 50%
Tantra Restaurant & Lounge
BUCKHEAD
2285 Peachtree Rd NE Ste 100
Atlanta, GA 30309
(404) 228-7963
Menu Highlights:
Hummus Tasting with Naan, $10
Kibbe Nayeh Pizza, $10
Pomegranate Braised Boneless Beef Short Rib, $23
Grilled Ostrich Filet, $32
Basil Caramelized Scallops, $21
Hours:
Monday – Thursday, 5:30 p.m. – 10 p.m.
Friday and Saturday, 5:30 p.m. – 2 a.m.
Complimentary valet parking available.