Yahoo Announces Summer "Yahoo on the Road" Tour: Lineup To Include Jay-Z,Kendrick Lamar,Justin Timberlake & More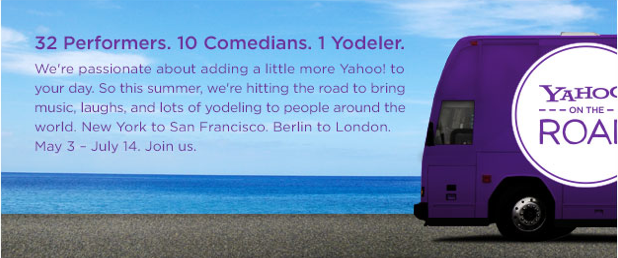 Yahoo has announced that it will throw its hat in the music scene by announcing that the company will be hosting a 21 date tour ti*led "Yahoo On The Road" which will feature some of music's biggest names.
The announcement came during the SXSW interaction segment when a rep from Yahoo told the audience "to be prepared to expect a daily mobile entertainment and innovation festival this spring/summer featuring the world's hottest bands, comedians and surprise guests." The will be over 30 performers from the likes of Jay-Z,K Dot,Justin Timblerlake Ryan Lewis,Frank Ocean, Trey Songz, J.Cole, and Macklemore to name just a few. The tour will hit 14 different states here in the US begining in NYC and stopping in San Francisco before heading acorss the pond for shows in London and various places in Europe.