Wiz Amber Rose Tattoo : Pass or Fail?
Sorry, there are no polls available at the moment.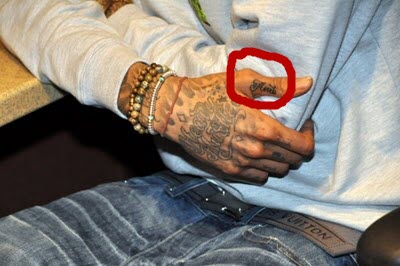 I am convinced Amber Rose got some good yams and probably some fiya dome. She is turning of major rap cats like it ain't nothing,you got to figure Kanye & Wiz probably knocked off some of the best women out there but they are head over heals over Amber.
According to Khalifa, he feels their relationship has a shot at going far.
"It's pretty serious. I really, really dig her," Wiz told radio personality Angie Martinez Wednesday (March 30). "People think it's an image thing and that we're just doing it to be crazy, but like, for real, for real, it's just two great people meeting at a good time. We just like to crack jokes and stuff like that. She's very down to earth, she's very realistic, and that's the way that I am. Just seeing stuff for what it is and not being blinded by the lights…I'ma be with her. That's why we wanted to give it to the world. But it's realistic. It's nothing that we're just beefing up or just doing for anybody's eyes. It's real. She's a great girl. I really, really am into her…I'm the kind of guy who knows when I'm winning, no Charlie Sheen intended. When you won, you don't gotta keep trying to do stuff that's gonna mess it up."
(Hot 97)
Newest message board posts:
Lindsey Lohan DRUNK in NYC