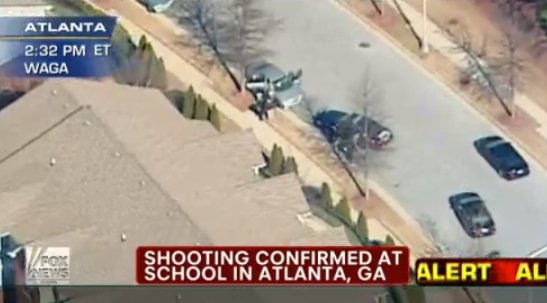 A 14-year-old student has been shot at Price Middle School in Atlanta.
The victim was taken to Grady Memorial Hospital with non-life-threatening injuries and is awake, conscious and breathing, sources told WAGA-TV.
One teacher was also injured in the incident, but was not shot.
Atlanta Police Department spokesperson Carlos Campos said police have one person in custody in connection with the shooting. The person had been "tentatively identified" as a student, Campos said.
The school remains on lockdown, following the shooting.
Campos said police responded to a call that a student at Price had been shot at around 1:50 p.m. Thursday. Police found the victim outside of a school building when they arrived.
A mother of a student at the school said her son told her that the shooting occurred as the result of a fight that broke out on school grounds, according to WXIA-TV.
The shooting was the sixth on a school campus in recent weeks.
On Dec. 14, a gunman killed 20 students and six educators at Sandy Hook Elementary School in Newtown, Conn. A month later, a student brought a shotgun into Taft Union High School in Taft, Calif., shooting a student and grazing his teacher. On Jan. 15, two people were shot dead in the parking lot at Hazard Community and Technical College in Eastern Kentucky. The same day, a part-time student at Stevens Insti*ute of Business & Arts in St. Louis shot the school's financial aid director.
And earlier this month, three people were wounded after gunfire erupted during an argument at Lonestar State College in Houston.