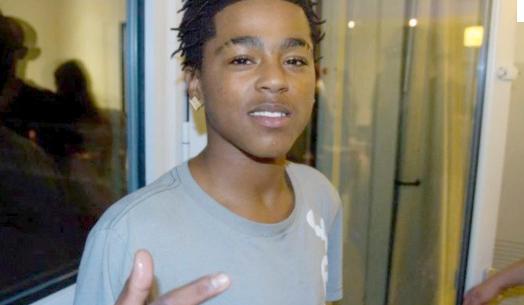 Slain Rapper Lil JoJo's mother and brother make appearance on TJ Holmes 'Don't Sleep' On Bet. Robin Russell, mother of slain Chicago rapper Lil' JoJo, recently appeared on TJ Holmes "Don't Sleep" late night talk show to discuss her son's murder.
Englewood resident Lil' JoJo was murdered in a hail of gunfire in a drive-by shooting as he was riding on the back pegs of a friend's bike. Witnesses described the vehicle as a tan, older model, four-door Ford Taurus that was riding low in the back, according to the Chicago Sun Times.
Authorities believe members of the Black Disciples street gang are responsible for Coleman's death. Holmes asked Russell who she thought was responsible for her son's death.
Russell replied,
"Chief Keef." Though Russell doesn't believe Chief Keef was the actual triggerman, she "believes he paid somebody to do it."
Russell, who fears for her life, said she is speaking on behalf of her fallen son so she may seek
"justice" and show kids that "it's a better way to get an education."
Russell told Holmes she was unaware of her son's gang affiliations. Lil' JoJo claimed BrickSquad, a faction of the Gangster Disciples.
"I don't feel it's my fault cuz all I can do is raise my child. I can't hold his hand 24/7 when he goes in the streets," she said. "I teach him right from wrong. But, like I said, I have other kids. I can't be there with him 24 hours."

Russell supported her son's aspirations of getting into the music business.

"I was for whatever he was for," she said. "If he wanted to do music, then that's what I was for. I loved the music that he did. He loved music."
Propz kollegekidd.com