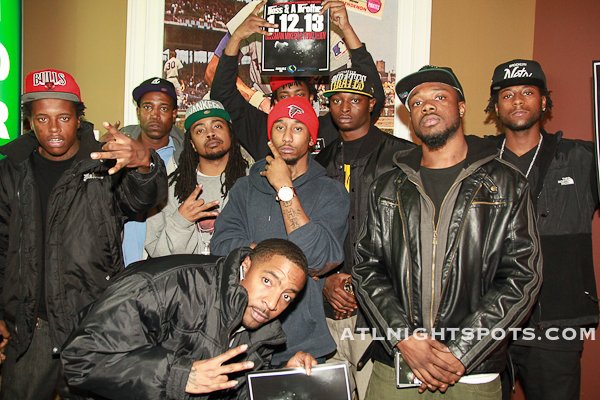 FTW/SBC talks about the death of group member Yung Teddy for the first time.
Nearly two weeks after the murder of up and coming local rapper Yung Teddy, police are still looking for the suspected shooters and motives for the killing. FTW wouldn't go into detail about the murder due to everything going on currently.
The rapper, born Justin Mitchell, developed a large following in the Atlanta area and was promoting a mixtape, "Right On Time." He even had a music video for the single "Tru," which has garnered nearly 40,000 hits on YouTube.
He was discovered shot to death at his Austell home on Jan. 2. Police say that two men entered Mitchell's home and gunned him down in front of his girlfriend and their young son.
Hours before his murder, he reportedly received death threats to his cellphone, which he wrote about on Twitter. Mitchell also posted photos of the threatening text messages he received on Instagram.
The rapper was also slated to release a collaboration mixtape this month with fellow Atlanta rapper Bossman Mikeski.
Thursday night authorities released a sketch of one of the two suspects in the fatal shooting. Although no one has been arrested for the shooting, police have charged a woman with one count of terroristic threats and acts
Yachari Kiyana Miller allegedly sent Mitchell threating messages saying,
"You a dead man walking" and "This your year to die."

"No new information has been released on this case aside from the sketch that we put out and the arrest for the threatening messages,"
said Cobb County Sargent Dana Pierce.
Police say they have not yet determined whether the texts have any legitimate relation to the shooting.
The first suspect in the shooting, who is depicted in the above sketch, is described as a black man, 20 to 23 years old and between 5'6″ and 5'9″ with a thin build. He was last seen wearing a gray sweater, dark pants and a black beanie hat. He had a handgun.
The second suspect is described as a black man between 5'4″ and 5'6″. He had a navy blue bandana covering his face and was wearing a multicolored beanie hat.
Cobb County police say that both men are still at large and should be considered armed and dangerous.
Police are still investigating a motive behind the killing and are seeking the two male suspects. Anyone with information about the case should call Cobb County police at (770) 499-3945.
Download there new mixtape Boss & A Brother "Bossman Mikeski & Yung Teddy Here.