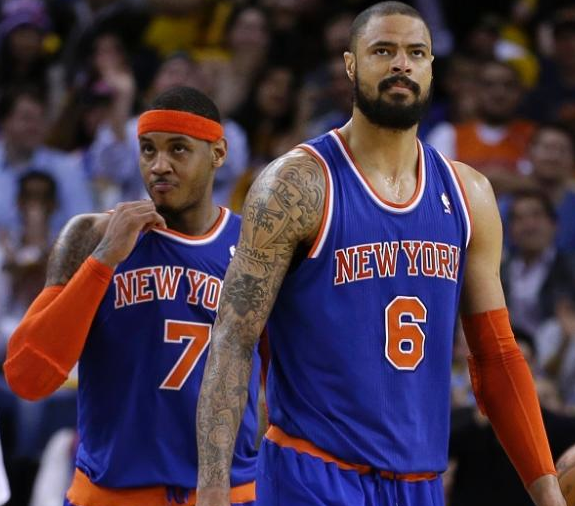 Last night seemed like the night that some key players were hit with some pretty big injuries first Kobe against the Hawks then in a game against the Knicks & Nuggets .For the first time since his trade Carmelo Anthony returned to Denver to take on his former team the Denver Nuggets.Throughout much of the night Melo struggled dropping buckets in a building he once called home and during the third quarter things got a bit worse for the superstar. Melo was forced to leave the game early after the knee injury he suffered about a week ago began to aggravate him finishing the game with only 9 points. He will be cutting his road trip short and fly back to New York to receive treatment and get that knee drained.
"It started tightening up, started stiffening up. Some movements that I couldn't make, movement laterally, felt like I didn't have no pop, no power," Anthony said. "I tried it in the second half, coming out after halftime. I couldn't move."

"I was always concerned," he said. "I was being naive to myself, saying OK. Trying to psyche myself out, 'I can do it. I can do it.' But there comes a point where you've got to figure it out and get to the bottom of it and move on."
 Knicks big man Tyson Chandler also suffered a knee injury as well after what the team called a knee contusion which led to him being helped to the locker room by his teammates. When asked Chandler said that he did not want to get it x-rayed and that he would try to give it a go for tonights game against the Portland Trailblazers. Chandler is key to the Knicks having any type of success now that Amare is out for the remainder of the season and veteran Rasheed Wallace has still been out since injuries but says that he intends to make a return this season.