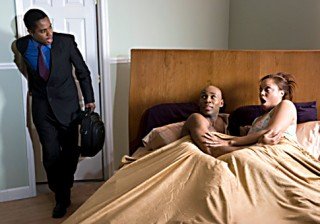 Have that gut feeling that your spouse or significant other is cheating on you? You don't have to hire the show Cheaters or call a private detective all you need to do is look for the signs.
1.They start to complain about everything you do
If he/she starts to whine and complain about things you been doing since she met you then that might be a red flag. Is she making critical remarks about you? When someone is being critical, they're attempting to take the attention off of themselves and make you look inward at yourself in a negative way.
2.If your always the one making arrangements to see each other.
Do you suddenly feel like the one who has to make plans for her/him to see you all the time? Well if that is the case then someone else other then a friend or her job is occupying there spare time. Their can be a x factor in this particular situation..
3.When you guys fight some one ends up leaving.
Does he or she blow up and physically leave the room or home after a fight? As a general rule, the one who's always leaving or running away can no longer tolerate being around the person they've wronged. Ironically, they usually run to the other person that they've cheated on your with or that they're interested in. This is especially true for women. For men picking fights can buy us time to rome the streets.
4.Your constantly accused of cheating.
Does he or she constantly accuse you of cheating? If all of a sudden some one is trying to micro-manage your time like the boss at your job you hate it's for a reason. If you've been faithful, but your significant other accuses you of cheating, be certain that he or she is guilty. As a general rule, whatever the person is accusing you of, he or she has already done to you and as a result, they're probably looking for a "safe" and clean way out. This is probably the best flag to yield to.
Majority of the time when your in too deep in relationship you see these signs but you choose to ignore them hoping for the best. If you answered yes to any or all of the above questions, chances are, you're being cheated on.