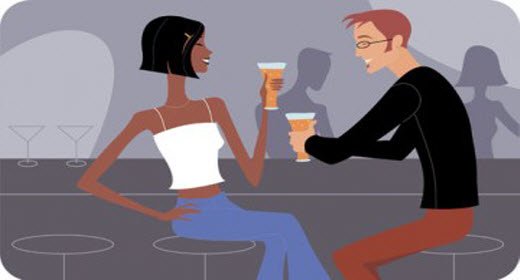 Through the years of being single in Atlanta I met a lot of women who all of them had one thing in common..their red flags. In no particular order I comprised the top 5 red flags.
1. Complaining about the dating scene – This topic usually pops up when the "Why are you single?" question arises and I hear…
"I'm probably moving cause I don't think I'll find a man in Atlanta"
"All the men in Atlanta"
"Men in Atlanta have to many options"
From a mans perspective this sends the impression you had a lot of negative experiences in your past that your still holding on to. Obviously something about you said to those men you dated that you weren't wifey material. All the single guys I know don't brag about being single in Atlanta they are looking for a woman that brings something to the table end of the day. Would you go to interview and tell your future employer the job market in Atlanta sucks and your probably going to move to find a job else where?
2. Name Dropping – I swear on everything I love as I am writing this there is a woman on my couch talking to her girlfriend on the phone about going over Bobby Valentino's crib seeing his piano,how he doesn't stop singing….about her date with a 300 pound Falcons football player #OnlyInAtlanta. You never know who knows who and how close they are. I couldn't even remember who many times I dated some one my mans and them already smashed. *Throws a red flag like a NFL ref*
3. Choice of dates – 1st three dates why are we going to your favorite restaurant? Is it your birthday or some kind of celebration.. if your really trying to get to know some one it shouldn't matter if you went Starbucks.
You can find out who are the professional daters looking for a free meal when this subject comes up.
There is nothing worse then being on the x date and she doesn't offer to pay a tip,or make any kind of investment in to situation. How you start is how you finish so if you never offer to take a tab,tip or even pay for valet that means more then likley you never will.
What are you bringing to the table?
4. Single in the city for years – If you have long unexplained gaps in your resume that sends a red flag to a potential employer it's no different in dating. Being single in Atl for 6 months is equivalent to years any where else. You can meet half of the city in a short amount of time if you go out enough and if no one took you off the market there might be a problem.
5. Whole crew is single – If the crew you roll with every where is single and you all go out all the time then y'all need to huddle and start running some different plays. A lot of women's single girl friends give bad advice when asked about certain situations cause they don't want lose their single girlfriend.
What are your Atlanta red flag experiences?