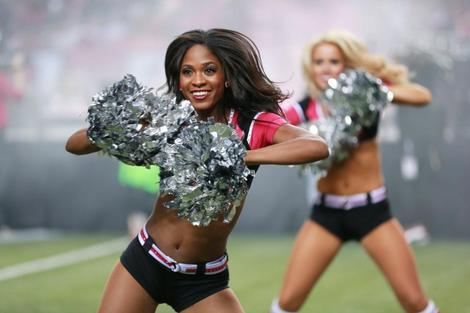 Atlanta Falcons cheerleader Kelly.P (she's not allowed to give her last name in interviews) is one of 40 members of the Falcons cheer leading squad, and here's a glimpse into life behind the scenes.
By profession, Kelly works as an account manager, but during the football season, she's cheered in unison with her squad since her initial selection in 2011. She becomes animated when discussing cheerleading.
"I have been dancing since I was 3. I was enrolled in a competi*ive dance studio since age 3 to my last year of high school, where I learned jazz, tap, hip-hop, lyrical (dance), ballet, and point,"
Kelly said. Her mom is her hero.

"Her favorite charity is the Atlanta Ronald McDonald House. One of her most memorable experiences was visiting a young lady in the hospital who had gotten ill at random and was very sick in the intensive care unit. Kelly, two other cheerleaders, and two Falcons players visited the 24-year-old patient, who was surrounded by her mom and grandmother. "It was a very heart-touching and emotional experience," Kelly said.
"Kelly has experience as a two-sport cheerleader. Some of her earliest cheerleading experiences were as a junior dancer with the Miami Heat Junior Jam, which selects members ages 8 through 13, beginning in 1998 — she danced for two seasons. She said she loved dancing for basketball, because she was "so close to the action on the floor."
Miami is her hometown, and she has one sister, who lives in Australia.
While swaying, stepping, and hopping as a junior dancer, Kelly did not miss a beat and was a cheerleader in graduate school at the University of Miami on the Sunsations Dance Team. She now works for a Fortune 500 insurance company. The Falcons require cheerleaders to either be full-time students or professionals. Kelly has a bachelor's of science in political science and a master of arts degree in international administration. Her coach in Miami, Kristine Stephenson, encouraged her to try out as a cheerleader for professional athletic teams.
"When she moved to Atlanta several years ago, Kelly had no family or friends to speak of in her new town. "I felt auditioning for the Falcons would be a good opportunity to meet new people and to be in community,"
she explained. Her selection as a cheerleader "was a dream come true." Kelly was one of 300 girls who auditioned. She endured three rounds of cuts on the first day, passed a professional interview, attended a prep class and boot camp, and had a final audition with a two-girl team before she was selected.
"The auditions prepare you to think quickly on your feet as a professional," she added. "They help you to adapt to any situation." Every year, she endures the grueling audition process starting in March or April. "There is an exit interview every year that is helpful (and helps you improve), but you are not guaranteed a position on the team."
In the auditions, the Falcons seek team players, not individuals who want to shine. Everyone must agree to a minimum of 20 hours of community service each season.
"During practices, she and the team go over the routines for the season. The day before a game, she eats a whole, healthy meal and gets her hair and nails done. "We do not travel with the team,"
she explained to Yahoo.
"It is mandatory that the cheerleading team arrives at the stadium or football field five hours prior to kick-off to meet for practice. There are four lines, and each line is made up of 10 people and a line captain. For each game, two lines with two different shifts perform and make special appearances to sign autographs and visit the Falcons suites before and throughout the game. "We do get paid, but it is a nominal fee,"

"During the off-season, the cheerleading squad still has appearance requests, ranging from participating in Career Days at schools to performing short cheer routines. Kelly makes about 30 unpaid cheer appearances a year and wears the standard appearance outfit, a stylized jogging suit approved by the Falcons. She works out year-long at the gym with members of the team several times a week. "The Falcons are my family away from home.""