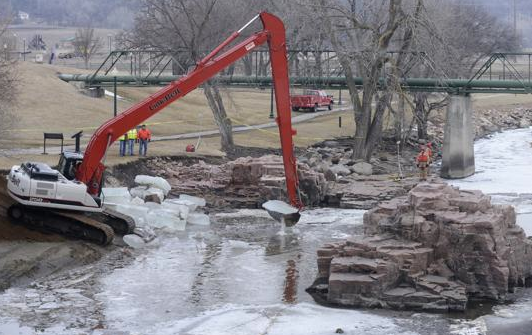 In Sioux Falls area of South Dakota, working crews were able to find the missing girl who fell into river at Falls Park late thursday night after an attempt to reach her brother who she believed fell in but that may not be the case.
Police have said that they have yet to determine if at all he had fallen in while he was climbing on the quartz rock but Napoleon Ducheneauxt a resident and friend of  Lyle Eagletail of the area said that he jumped in the freezing water attempting to rescue both and after holding onto the hand of both the 16 year old girl and the boy but slipped away and disappeared into the fast flow of the river. Since his rescue attempt Eagletail body has not been discovered and his body may have been carried by the rivers current. Stories have differed from each witness on exactly what happened to the boy which caused everyone to end up in the river to begin with. Emergency workers who arrived on the scenes commented on the acts of those on the scenes
'These people literally jumped in without thinking of their own safety and trying to rescue that child,'' Sideras said. ''It's a very noble act that they did, and they probably contributed to saving that boy's life.''
The bodies of his sister and another unnamed man were picked up as crews dug through the icy water.