Taco Bell's Beef Had Horse Meat In It Too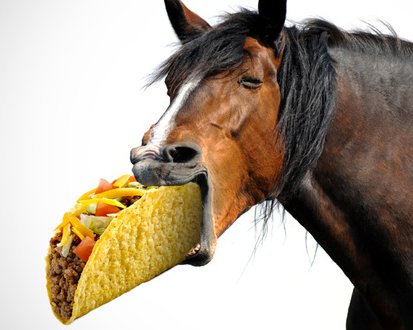 Some fast food junkies are running out of options with all these horse meat news reports.
The latest round of tests conducted by Britain's Food Standards Agency found that ground beef used at all local Taco Bell locations contained trace amounts of horse DNA.
Taco Bell released a statement saying it conducted its own testing, which confirmed the FSA's findings.
It subsequently recalled the affected stock from stores and put a stop to all purchases from the European plant that supplied the tainted meat.
The statement goes on to apologize to customers, and assure potential patrons that the company "take[s] this matter very seriously as food quality is our highest priority."
Taco Bell joins a growing number of high-profile brands that have been embroiled in the ongoing horse meat scandal.
Furniture retailer Ikea recently stopped the sale of Swedish meatballs at certain locations after horse meat was found in some of its product.
Burger King was also forced to acknowledge that some of its patties had contained horse meat after adamantly denying it for weeks.
Am I the only one to notice that all these tests on USA corporations food contaminants that make the headline news are never done by the FDA?