T.I. Wife Tiny Buys Tesla Model S Electric Car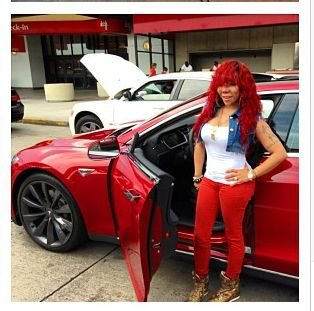 Atlanta reality show actress, Tiny Cottle-Harris, Wife of rapper T.I. showed the world her latest electric car.
This is not surprising cause in the first half of 2013, Tesla captured 0.6 percent of the total light-duty vehicle market in the state—more than Buick, Fiat, Land Rover, Lincoln, or Mitsubishi. And looking only at June, the latest month for which figures are available, Tesla also topped Cadillac, Chrysler, and Porsche.
Ellon Musk, the founder of Paypal.com ( sold company to eBay ), having started his own Electric vehicles company a few years back. "Tesla Motors," who have become a major hit in California, is on the verge of taking over the Automotive market with many companies so scared of its emergence, they tried to put politics into play and have the car banned in several states. Luckily, people caught wind of the car in the 'Green' movement and dominated public votes allowing the car company's spread.
The base price of Tesla starts at $63,570 (after a federal rebate) puts it out of most people's reach. Tiny will be saving $3,000 in gas a year in Georgia based off of the gas prices.