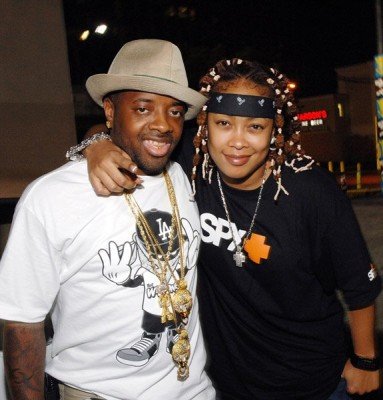 More bad news for JD involving money matters. SunTrust Bank is suing Atlanta music producer Jermaine Dupri and his So So Def Productions for $1.9 million, claiming the businessman defaulted on a loan.
In the suit filed Thursday in Fulton County Superior Court, SunTrust said Dupri, listed as Jermaine Dupri Mauldin in the docu*ent, took out a nearly $4.9 million loan in December 2010, but defaulted on the commercial note in May 2011. So So Def was listed as the loan's guarantor according to AJC.
Efforts were being made to reach Dupri and SunTrust for comment. The suit says Dupri was given until November 2012 to pay off the balance, but he didn't and hasn't since then. SunTrust says Dupri owes about $1.8 million in principal, $83,545 in interest, $10,083 in fees and $505 in interest per diem after May 21.
The bank says Dupri can avoid attorneys' fees if he pays the full amount due within 10 days of the suit's filing.
In 2011, SunTrust initiated foreclosure proceedings on Dupri's mansion on Mount Paran Road in northwest Atlanta. A planned auction in May of that year was canceled at the last minute, according to a Channel 2 Action News report at the time. The mansion today is valued at around $4 million, accoriding to Fulton tax a@$$@sor records.
In February, Dupri held an "All-Star Anniversary Concert" to mark the 20th year of his record label. The concert at the Fox Theatre featured So So Def's laundry list of artists, including Kris Kross, Da Brat, Jagged Edge, Xscape, Bow Wow and others.