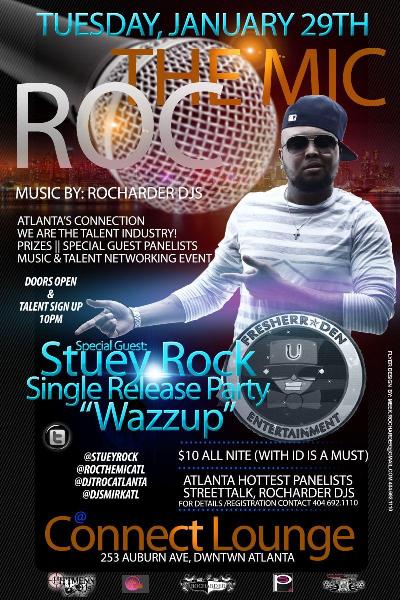 ROC THE MIC ATL Presents 2013 Music Extravaganza Tuesday, January 29th 2013. Stuey Rock "Wuzzup" single release party at connect lounge Tuesday January 29th.
Introducing a Very Professional Panel
A&R Representatives
Major Producers
Engineers
Managers
Radio
Labels
THE CONNECT LOUNGE
253 AUBURN AVE
ATLANTA, GA
TUESDAY, JANARY 29TH
DOORS OPEN AT 8PM
*** GROUP DISCOUNT AVAILABLE ***
EMAIL: MUSIC.ROCHARDER@GMAIL.COM
This Showcase is apart of a legendary movement with Americas Hip-Hop Artists from across the nation.
Come and Represent to the Fullest!! You will be performing in front of music professionals and idols including A&Rs and Scouts.
Attention Artists Here are the Showcase Requirements
Each Track that you perform must be no longer than 4 minutes and 20 seconds. Also It is Highly Recommended that all Artists Bring 2 Show CD's!The BEST Check in time is BETWEEN 8:30PM – 9:30PMPlease be advised there is a discount Group Rate.All Artists Enter the Venue at no additional charge.Prizes will be given at the end of the night! Be Prepared to Network to Win!