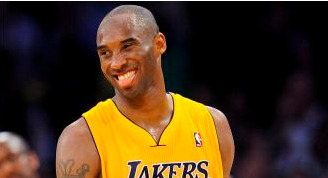 se*.com is a "a virtual pinboard for po**." You might remember that se*.com asked famed pre-race dancer Michelle Jenneke to pose nude in exchange for a "sizable donation" to the Australian Sports Commission, or that they offered Rob Gronkowski $3.75 million to do a po** scene with Bibi Jones.
The dunk contest has been trending lately due to LeBron James not wanting to participate. Magic Johnson bribed LeBron James with $1 million to participate. se*.com jumps in the mix and they've offered $5 million to Kobe Bryant's favorite charity.
"That's right. If it's going to take a $1 million of Magic Johnson's money to get Lebron James to do the Dunk Contest, well we want to make sure Black Mamba is there to prove that he's the NBA's best player."
Here's the entire press release with the offer:
"March 4th, 2013 – 'As passionate basketball fans, the team at se*.com was thrilled to hear about Magic Johnson's million dollar offer to Lebron James. In hopes of making the 2014 NBA Slam Dunk Contest a historic event, se*.com has reached out to Kobe Bryant's agent Rob Pelinka and the NBA to entice Kobe Bryant to participate in the Dunk Contest for the first time since 1997.

se*.com is offering $5 million to the charity of Kobe Bryant's choosing for his participation in the 2014 NBA Slam Dunk Contest. However, this offer is conditional. It depends on Lebron James entering the 2014 NBA Slam Dunk Contest with Bryant.

Bryant and James are both members of the NBA's elite and fans often debate who is the better player between the two. se*.com wants to ensure that basketball fans get to see the two superstars use their talent and creativity.

'…We at se*.com feel it is important for the sport of basketball that Kobe and Lebron face-off in the dunk contest and we want to be part of this historic event. The NBA's best players used to enter. Jordan versus Dominique had us on the edge of our seats. It would be a shame for these exceptional player to let pride take priority over sportsmanship…' says se*.com's Director of Marketing J.L. Marcoux."
Kobe Bryant is an old dude now their are a lot other NBA superstars we'd rather see like Josh Smith.