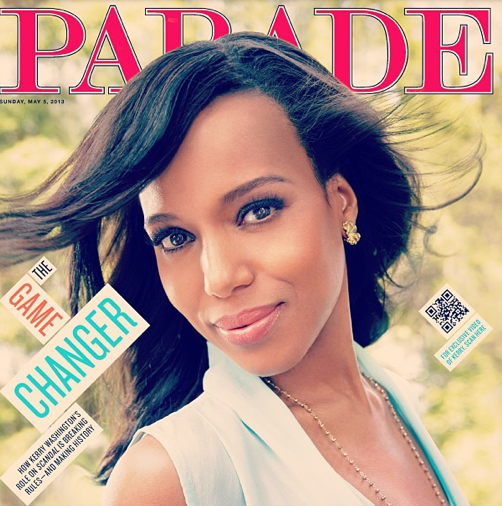 Kerry Washington is making history these days! The Scandal star is the first black woman in 40 years to carry a TV drama on a major network and make it #1 . Not only has she been on Scandal but also the Academy Award winning movie Django and the Tyler Perry movie getting ready to be released next week Peeples.
Ms. Washington covers Parade magazine and was asked how she felt about making history in which she responded:

"I knew that in my lifetime I'd never seen it. But it didn't compute to me that I'd be making history. I just fell in love with the character."
If you've ever been wondering what President Obama and his staff has thought of the hit TV drama..Kerry answers that:

"I haven't wanted to ask the president his opinion of the show. But I have lots of friends in the administration who love it. We make D.C. look se*y and exciting."
And that she does. Kerry has been a busy woman and myself have wondered how she's managed to keep up with all these movies and shows and she gives an honest answer:

"I had two days between finishing Django and starting up again on Scandal. It was nuts. That first day back I had to walk across the Rose Garden in heels. I thought, 'I don't remember how to walk like Olivia Pope anymore. ' I'd been barefoot in the woods for months playing a slave."
Now that's funny. Congratulations to your success Kerry. I've been watching you for a long time since She Hate Me and knew that this day would come. Talent exceeds everything!
#TBT Prom pic