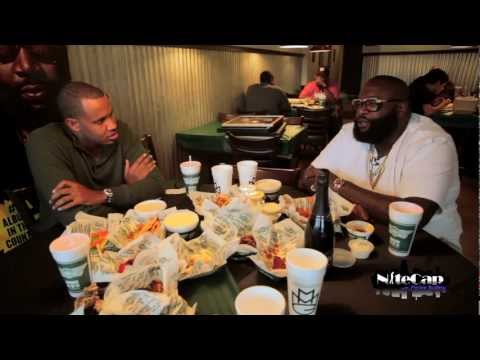 The leader of the untouchable Maybach Music Empire, Ricky Rozay was the next artist featured on NBC's "NiteCap" with Peter Bailey. In his first sit-down interview of 2013, the two are at his Miami Wingstop Location as they broke the ice with discussing his upcoming acting debut for season 2 of the Starz original series "Magic City."
Being a fan of the series beforehand, Rozay found out the location for the upcoming series would be in his hometown as he made a few calls to be part of the show. They also briefly discussed his Miami Heat which he likes where their season has taken off thus far and isn't questioning any moves by the organization.
Ross goes through a list of plaques for the restaurant showcasing himself and Trick Daddy's platinum collections which leads to them discussing the ingredients to building the MMG brand and keeping it relevant after all of the games running the game. Ross goes on saying he keeps the MMG family closed and tight knit with everyone on staff on the same page as he's picked the most hardworking artist.
The clip closes out with Rozay discussing Django Unchained and his involvement with Jamie Foxx on the original soundtrack for the leading single "100 Black Coffins." You can stay tuned for his sixth studio album "Mastermind" coming this year.